People with limited or uncertain access to adequate food experience food insecurity. Over the past decade, food insecurity affected 11% to 15% of U.S. households. U.S. military veterans face risks of food insecurity similar to those of the overall U.S. population, but veterans with children are much more likely to have very low food security, as are younger veterans who served in the wars in Iraq and/or Afghanistan. In 2020, we conducted a survey and conversations with military-students at the University of Wyoming in order to increase understanding of military-connected student food insecurity experiences and develop potential strategies to address food access.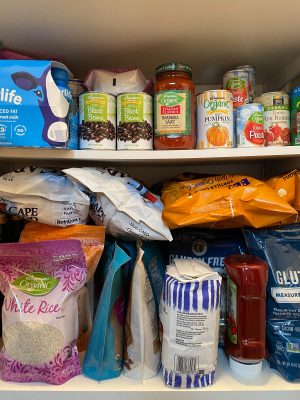 Why should we care?
When military members return from service and transition back into civilian life, many use benefits awarded for military service by the U.S. Armed Forces to pursue advanced education. Two-thirds of today's U.S. veterans have enrolled in at least some post-secondary education, and college students in general experience high food insecurity rates, with many enduring very low food security. A 2017 survey of undergraduate students at UW showed that 37% of students experienced food insecurity. Student food insecurity is associated with anxiety, depression, homelessness, lower grades and higher drop-out rates.
In 2019–2020, 277 students at UW received military-related education benefits or assistance, and more than 600 military-connected students were enrolled. Veterans with college degrees earn a higher average salary compared to their peers without a college degree, positioning them for higher food security. However, returning from service poses barriers to success in higher education, including mental health stigma, food insecurity and integration into college settings.
In the United States, 41% of student veterans attending four-year colleges have reported food insecurity, but knowledge about food security among military-connected students is limited. The 2017 student survey at UW did not include graduate students or evaluate food insecurity among veterans and other military-connected students.
What did we do?
We asked students to share information about their demographics, their food consumption and access, and food insecurity among military-connected students, including ideas for improving food security and insights into food resources on campus.
Our project originated in the UW Food Security Taskforce, www.uwyo.edu/food-security, which identified the need for a detailed assessment of food security among UW students, including the demographic distribution of the problem and students' desired strategies to address it. We sent out a survey in spring 2020 to all UW students, and in fall 2020, we talked to military-connected students through focus groups. Among military-connected students, 127 responded to the survey and eight participated in focus groups, providing insight and feedback about food security, access and resources.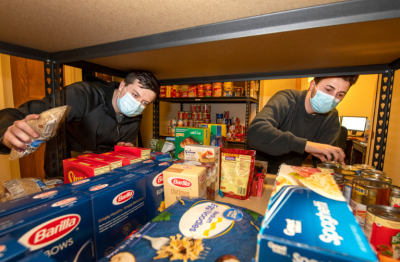 Who participated?
Most military-connected respondents were full-time, undergraduate students who did not live in campus or university housing. Compared to other military-connected students, veteran student respondents were older (average age of 38.4 years vs. 25.9 years) and more likely to be living with a spouse/partner (64.5% vs 34.4%).
Eight military-connected students (three female, five male) representing the Army, Navy, Air Force and Marine Corps volunteered for the focus groups. Participants included those who were currently on active duty, in the Reserves or National Guard, and/or retired/veterans, as well as both commissioned officers and enlisted military.
What did we find out?
Of military-connected student survey respondents, 42.5% reported food insecurity. Almost one out of four military-connected students reported personally experiencing shame/stigma "sometimes" or "often" about having access to food. A third of military-connected students said they felt our society attributes shame or stigma "quite a lot" or "a great deal" to people who do not have enough food access. A full report of survey results for UW students is available from the Taskforce survey working group.
Feedback from military-connected students in the focus groups included current and planned food resources, barriers to food security and strategies to promote military-connected student food security. Feelings of both shame and pride emerged as barriers for military-connected students in using services to alleviate food insecurity. At the same time, students' feelings of connection to the military and pride in those connections offered foundations for building food security strategies tailored to reach military-connected students.
Ideas for increasing military-connected students' access to food security services fell into two areas: mitigating shame and risks to pride and tapping into culture and connections associated with the military.
Participants talked about the importance of mitigating shame and preserving pride so that students would be more comfortable using food security support services, including the importance of anonymity in food access resources and the importance of reducing shame associated with using such services. Participants talked about the need to undo this culture of shame with food insecurity and seeking help. Suggestions included efforts to normalize using food access resources and assistance programs including education, communication about food security and resources within the military-connected community, as well as encouragement and support from superiors.
Focus group participants also offered ideas for food security strategies to tap into culture and connect with services specially targeted to military-connected students for both practical access and to match military culture. 
Students were asked to rank resources they would most like to see implemented at UW. Each potential or existing food access resource included a short description. All resources received support/interest, with a campus grocery receiving the highest level of support. A campus grocery store was defined as a centralized on-campus grocery store that provides healthy foods with prices that are at-cost or subsidized for students.
1. Campus grocery store  (weighted score: 5646)
2. Good food recovery and sharing (weighted score: 5136)
3. Swipe out hunger (weighted score: 5042)
4. Central grocery/pantry blend (weighted score: 4814)
5. Growing food on campus (weighted score: 4311)
6. More student food share cabinets (weighted score: 3003)
Note: Weighted scores are out of 6000
Student feedback about UW food security strategies
UW students, faculty and staff are leading efforts to address student food insecurity. At the time of our survey, the UW Food Share Pantry was not yet in operation, and the primary strategy for student food access was through the novel food share cabinets in various buildings around campus. We asked military-connected students about institutional strategies at UW to address food security. Those strategies and the students' rankings of current and proposed UW strategies to address food security are presented in the sidebar (left). Military-connected students' top-ranked strategy was a centralized on-campus grocery that provides at-cost or subsidized healthy food for students.
Implications for UW students, staff, faculty, administration and alumni
Rates of food insecurity at UW, including among military-connected students, mirror trends among college students in the United States, which are significantly higher than overall national food insecurity rates. Our study suggests that more effectively reaching military-connected college students with food security measures requires reframing food insecurity as a systemic issue, rather than a personal one associated with shame and erosion of pride. It also suggests offering food security services that are both culturally and practically tailored to the military-connected student population. Developing effective food security support with and for military-connected students is essential for ensuring that the sacrifices they make for their country are only in their service to the Armed Forces, not in feeding themselves and their families.
Ongoing food security work at UW
The UW Food Security Taskforce continues to address student food insecurity, including among military-connected students, through a variety of strategic efforts including:
Engagement with students, staff and faculty across campus.
Support and guidance for existing resources (e.g., UW Food Share Pantry, Meal Swipe Sharing).
Implementation of additional resources (e.g., growing and sharing food with ACRES Student Farm, campus grocery store).
Management of an information
hub/media for food security resources.
Connections with Wyoming community colleges to develop a statewide network food share pantry, www.uwyo.edu/dos/student-resources/food-pantry.html.
By Jill Fabricius Keith, Assistant Professor, Department of Family & Consumer Sciences, (307) 766-5248, jkeith5@uwyo.edu
Kerry Ray Schinkel, II, Graduate Student, Department of Family & Consumer Sciences
Collaborators: Rachael Budowle, Assistant Professor, Haub School; Boyi Dai, Associate Professor, Kinesiology & Health;
Cody Gifford, Assistant Professor, Animal Science;
Christine Porter, Professor, Kinesiology & Health
Reprinted from the 2022 issue of Reflections, the College of Agriculture, Life Sciences and Natural Resources annual research magazine.
Notes
The University of Wyoming Veterans Service Center (VSC) is open to military-connected students and offers a variety of services to support veterans and military-connected students, with a mission of "Serving Those Who Served" (www.uwyo.edu/vetservices/index.html). VSC benefits and services were recognized and promoted by several focus group participants, and this research was supported by and shared with VSC leadership.
Schinkel, K., Keith, J., Budowle, R., Dai, B., and Porter, C., 2021. Combating Student Food Insecurity: Spring 2020 Student Food Insecurity Survey Results. University of Wyoming.
bit.ly/2020foodinsecuritysurvey