Corey Tarwater has been named the Robert Berry Distinguished Chair in Ecology at the University of Wyoming. Her appointment was effective earlier this month. She replaces Craig Benkman, who has held the chair since 2004.
"This chair position is an exciting next step for me and for ornithology at the University of Wyoming," says Tarwater, an associate professor in the UW Department of Zoology and Physiology. "Funds from the position will benefit ornithology through three new initiatives I am leading, with support from a newly formed committee."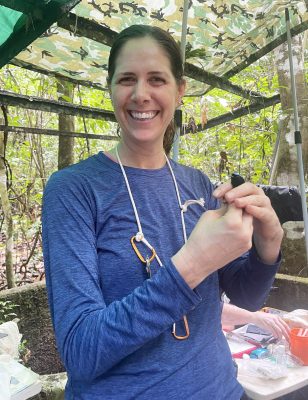 The initiatives are:
— The committee established a Berry Invited Seminar Speaker Series. Every semester, one internationally recognized ornithologist will be brought to UW to present a seminar and meet with students and faculty. "While seminar invitations are common and important, this new, sponsored speaker series both recognizes outstanding work in ornithology and connects UW students to world-class researchers," Tarwater says.
— The committee will create a professional development program for graduate students and faculty to support them in gaining new quantitative skills; provide more funding for graduate students in ornithology; and start a regional ornithology mini-conference with faculty and their students from nearby universities. Like the speaker initiative, this professional development program will provide local access to world-class training and connect UW's ornithologists to a wider professional network, she says.
— The committee is expanding a summer program that Tarwater started last year with Sam Case, her Ph.D. student from Minneapolis, Minn. The undergraduate research experience program is focused on studying nest boxes for Laramie-area wild birds.
"Overall, funds from this position will provide a great benefit to undergraduate and graduate students and faculty by providing more research opportunities, funding for research, and opportunities to connect with other people in the field," Tarwater says.
The chair position has two primary functions. One is to foster and enhance the ecology program, with an emphasis on avian ecology and conservation, at UW, Tarwater says. The second is to enhance the research of a faculty member in the field of ecology, with an emphasis on ornithology, she adds.
"I am in charge of the longest-running avian demography study in the Neotropics, having gone on for 45 years at this point. Long-term data sets are invaluable, and ensuring that they continue is a challenge," Tarwater says. "Work from this study has shown that, even in intact protected forest, bird populations are declining, likely in response to climate change, and young birds, in particular, are the most vulnerable. But there is still so much we don't know."
Tarwater says funds from this position will be used to ensure that long-term data collection continues and to expand the research to address the mechanisms of decline. Addressing these types of questions is especially critical in tropical regions where long-term data sets such as this don't exist; species are particularly sensitive to environmental change; and over two-thirds of the world's biodiversity exists. The Berry Distinguished Chair provides sustainable, long-term funding and increased visibility for this work.
Tarwater's research interests are broadly focused on the links among ecology, evolution and behavior of year-round resident birds, and using individual-based studies to understand variation in individual fitness and population demography. Her work examines reproductive and dispersal strategies, life history trade-offs, demography, seed dispersal, and how the changing environment impacts these processes.
Her projects include the effects of rainfall and fragmentation on demography in understory birds in Panama; causes of variation in fitness and demography of birds in central Panama; the role of invasive vertebrates in seed dispersal in Hawaii; and life histories and demography of song sparrows in British Columbia.
Tarwater received her Ph.D. in ecology, evolution and conservation biology and her master's degree in natural resources and environmental sciences, both from the University of Illinois at Urbana-Champaign. She received her bachelor's degree in wildlife, fish and conservation biology from the University of California-Davis.
This story was originally published on UW News.