For those interested in learning more about how to manage human resources on the ranch, the University of Wyoming College of Agriculture, Life Sciences and Natural Resources will lead a seminar at Sheridan College Thursday, Feb. 16.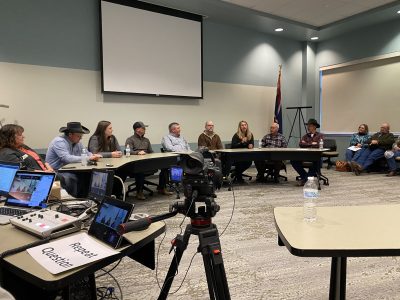 The event is second in a five-part spring seminar series organized by UW's Ranch Management and Agricultural Leadership (RMAL) program.
Titled "Ranching in the West," the series provides relevant, actionable information to Wyoming producers while facilitating practical, hands-on learning experiences for students.
Events are hosted by UW and community colleges across the state. All sessions are livestreamed and recorded via Zoom. For community members and students not seeking academic credit, the cost is $25 per session.
The 3.5-hour seminar at Sheridan College will begin at 4:00 p.m. at 1090 Dome Loop Drive. Dinner is provided. To register, visit www.uwyo.edu/uwag/rmal.
Presenters will discuss the challenges associated with hiring and managing employees, how to implement best practices, and what to do when something goes wrong.
"Sometimes we can learn from other people's missteps," says RMAL Program Coordinator Anne DeMersseman, a leadership coach and former corporate consultant with years of experience in human resources. "Even if you haven't had some of these problems yet, it doesn't mean you won't in the future. Or better yet, you also might learn how to avoid them altogether."
Panelists include Amy Ormseth, district ranger for the Tongue Ranger District of the Bighorn National Forest; Trey Patterson, CEO and president of the Padlock Ranch; David and Terri Kane, owners and operators of the Kane Ranch/SR Cattle Company; and Ben Hostetler, operations manager of Mountain Meadow Wool in Buffalo.
DeMersseman and Cody Sinclair, Chief Development Officer at Sheridan Memorial Hospital, will facilitate the discussion and share suggestions on how to navigate difficult situations.
Following the event in Sheridan, UW will host three additional RMAL seminars. Topics, dates, and locations are below. For more information, visit www.uwyo.edu/uwag/rmal.
Technology and Innovation: March 2, Eastern Wyoming College – Torrington
Revenue Diversification: March 30, Northwest College – Powell
Leadership Symposium and Luncheon: April 20, University of Wyoming – Laramie