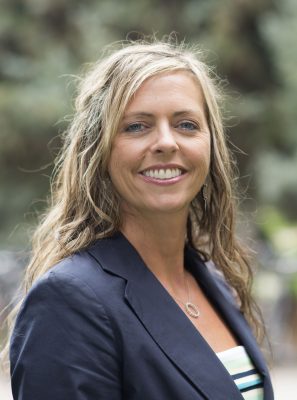 A more than half-million-dollar grant awarded for a collaborative project between the University of Wyoming and Central Wyoming College (CWC) will focus on recruiting more Native American students in food, agriculture, natural resources and human (FANH) sciences.
The National Institute of Food and Agriculture (NIFA) grant from the United States Department of Agriculture (USDA), along with matching funds from UW and CWC, will fund the nearly $578,000 four-year program.
The USDA NIFA proposal is from the New Beginning for Tribal Students Programs. The joint venture between UW and CWC is titled "Growing Season: Native student pathways to food system and sovereignty studies."
Jill Keith, a family and consumer sciences assistant professor, is UW's project director, and Tarissa Spoonhunter, an American Indian studies associate professor, is CWC's project director.
The Growing Season project addresses multiple priorities of CWC and UW, including those identified in CWC's 2017-2021 strategic plan; UW's 2017-2022 strategic plan; and the UW Native American Affairs Advisory Council's mission, Keith says.
"CWC and UW have recently invested in several new efforts to increase recruitment, retention and graduation of Native American students, in particular from the Wind River Indian Reservation," Keith says. "This project builds upon and expands those efforts, with a particular focus on the inclusion of an Indigenous worldview to improve the sustainability, productivity and health impacts of our nation's food and agriculture systems."
She adds that the collaborative project provides support for efforts to strengthen pathways for Native American students at UW and CWC.
"Partnerships are essential for tribal students to feel connected in higher education where they can work to help their tribal community," Spoonhunter says. "Food security and natural resources are important to tribal communities as many still hunt and gather traditional foods."
She adds that the grant allows students to stay connected to their communities and to attain a college degree through the pathway of CWC and UW collaboration exposure to FANH programs.
Goals and strategies for increasing the number of Native American students earning higher education degrees at both UW and CWC are:
— Attract and retain more Native students in FANH disciplines by creating support groups for students at CWC and UW interested in FANH issues. These will offer experiential learning, professional development, mentoring, emotional support and academic advising.
— Recruit more Native students to both schools by adding a FANH-focused study track to UW's annual Native American Summer Institute (NASI), a one-week program for high school students from the Wind River Indian Reservation.
— Create a full-time, FANH-advanced NASI week for Native people with high school or GED diplomas.
— Host a two-day FANH workshop at CWC in advance of NASI.
To evaluate the program's processes and outcomes, the organizers will track student numbers and progress, and gather feedback from student, community and faculty participants in the programs.
"In addition, we will support interested students in developing multimedia stories about their hopes, plans and experiences in these programs, and in food, agriculture, environment and health more generally," Keith says.
For more information about the program, email Keith at jkeith5@uwyo.edu or Spoonhunter at tspoonhu@cwc.edu.