Recreational Off-highway Vehicles (ROVs) – side-by-sides or UTVs – have become increasingly popular for many uses including recreation, construction, and agriculture.
Their versatility makes them a great tool for farms and ranches. Often, they are chosen over ATVs because, in addition to versatility, they are also seen as safer, but many of the safety recommendations are often ignored by agriculture users.
Many of the jobs for which we use ROVs on a farm or ranch require more focus on the task at hand than on operating the vehicle. When moving cows on horseback, we tend to focus on the cows and let the horse do a lot of the driving. We expect our horse to avoid many hazards such as badger holes, ditches, etc., while we focus on the cows.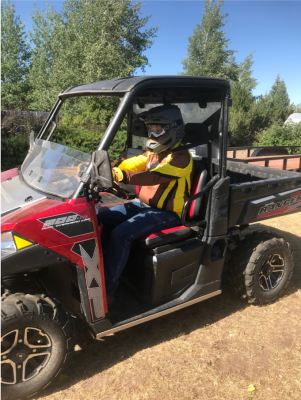 Unfortunately, there are times when using an ROV to move cows we expect the ROV to do a lot of the driving as well. When we move cows on an ROV we need to be aware of our driving as well as the cows.
When I travel across Wyoming and observe ROV use for recreation and agriculture, I would probably have to give us an overall grade of no better than a C-. The Recreational Off-Highway Vehicle Association has developed safety rules (right). Think about how we are doing as you read through these rules.
YouTube abounds with videos of people making poor choices on ROVs, including plenty of farm and ranch examples. I watched a video where the driver jumped a small ditch at a relatively low speed with a Can-Am Commander (a utility-type ROV). The ROV landed too far forward on its front tires then somersaulted over and lit on the rollover protection structure. The driver was not wearing his seat belt or helmet and was thrown from the ROV. He was lucky he only required a short hospital stay.
Accidents like this don't just happen to anonymous folks on YouTube; almost all of us know a farmer or rancher who has been involved in a serious accident. I know of ranchers who have rolled ROVs end-over-end as well onto the side.
ROVs are great tools for agriculture; however, taking them seriously is important as is utilizing proper safety procedures and techniques when using them. Please contact me if interested in more information about safe handling or in taking a safe handling course.
ROV Safety Rules

Always fasten your seat belt, wear a helmet and other protective gear, and keep all parts of your body inside the ROV.
Avoid paved surfaces. ROVs are designed for off-highway use.
Drive only in designated areas, at a safe speed, and use care when turning and crossing slopes.
Never drive or ride under the influence of alcohol or drugs.
Never drive an ROV unless you're 16 or older and have a valid driver's license.
Never carry more passengers for which the ROV is designed, and never allow a passenger who is too small to sit in a passenger seat.
Read and follow the operator's manual and warning labels.
Take an ROV safety class.
Bridger Feuz is a University of Wyoming Extension educator based in Uinta County and serving western Wyoming. He can be reached at (307) 783-0570 or at bmfeuz@uwyo.edu.