The University of Wyoming's Rangeland Ecology and Watershed Management (REWM) program is one of 14 accredited rangeland ecology and management undergraduate degree programs in western North America.
The REWM program, housed in the UW Department of Ecosystem Science and Management, offers unique opportunities for hands-on learning and applied research in rangeland systems.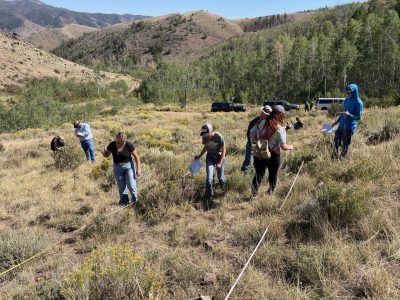 The program is accredited by the Society for Range Management, a professional society and conservation organization for land managers, scientists, educators, students, ranchers, and conservationists.
"Accreditation with the Society for Range Management means that our program meets seven standards that support a rigorous, sustainable educational program that provides our students with a quality educational experience in rangeland ecology and management," says Jeff Beck, program lead and professor of ecosystem science and management. "Our students are highly sought after."
Degree requirements include 18 credit hours in core topics such as plant identification, vegetation management, herbivore management, and rangeland monitoring and assessment. The program also includes courses in soil science, remote sensing, plant ecophysiology, animal biology, and statistics.
In addition to classroom learning, many students participate in faculty-led research projects and field-based summer internships.
Many REWM graduates go on to work with federal and state land management agencies like the Bureau of Land Management, US Forest Service, USDA Natural Resources Conservation Service, USDA Animal and Plant Health Inspection Service (APHIS), and Wyoming Game and Fish Department. Others pursue careers with environmental consulting firms, private ranches, nongovernmental organizations, and companies involved in the reclamation of disturbed lands.
Currently, approximately 60 undergraduates are enrolled in the program, including 39 in-state students. Tim Collier, head of the UW Department of Ecosystem Science and Management, estimates that approximately 90 percent of students who graduated from the program last year secured jobs in resource management in public or private sectors.
The program was first accredited in 1990 and undergoes periodic reviews by the Society for Range Management in order to maintain accreditation. "We have been among the largest undergraduate degree programs in rangeland ecology and management in a public lands state," Beck comments.
To learn more about the program, visit https://bit.ly/uw-rewm or contact Beck at jlbeck@uwyo.edu.