When Corey Tarwater was a budding student ornithologist in college, she desired more fieldwork opportunities to learn the hands-on and up-close duties required of the profession.
To that end, Tarwater, an associate professor in the University of Wyoming Department of Zoology and Physiology, and fellow faculty working on bird research at UW have provided UW students with WYOBIRD (Wyoming Bird Initiative for Resilience and Diversity). WYOBIRD aims to advance knowledge, appreciation, and conservation of birds locally and globally. The initiative achieves this by conducting novel research on birds; training a new generation of scientists at UW through hands-on training; and sharing science through networking, public outreach, and seminar speakers.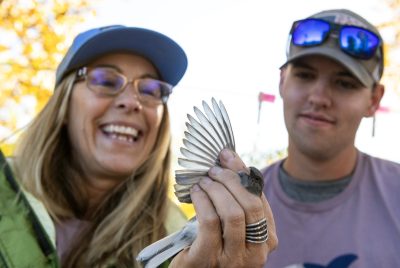 "WYOBIRD is an exciting new initiative because it benefits both our students through hands-on experiences and development of new skills. But, it also creates a greater sense of community among our students and faculty," says Tarwater, the Robert B. Berry Distinguished Chair in Ecology and director of WYOBIRD.
A key aim of the initiative is to provide UW undergraduate and graduate students with direct experiences in the field of ornithology, or the study of birds. Traditional coursework often lacks a field component where students can develop marketable skills that will prepare them for graduate school or employment, Tarwater says.
Tarwater initially came up with the idea of WYOBIRD because she thought about what UW students are missing in their curriculum; what experiences and skills would benefit them in their future careers; what barriers some students face in gaining these experiences; and, essentially, what she wishes she had when she was a college student.
For example, students involved in WYOBIRD had the opportunity to lead and assist with projects in Albany County, including tree swallow nest box monitoring during the summer and a migration bird banding station this fall. Students gained experience with field techniques, including bird banding and nest checks, fieldwork logistics, and data management. Additionally, UW graduate students practice their teaching and communication skills as they are responsible for hiring, training, and supervising UW undergraduate students.
Some undergraduate students—majoring in wildlife and fisheries biology and management—are supported by "avian internships." These avian interns gained hands-on experience assisting with the nest box study during the summer and the Laramie bird banding station this fall.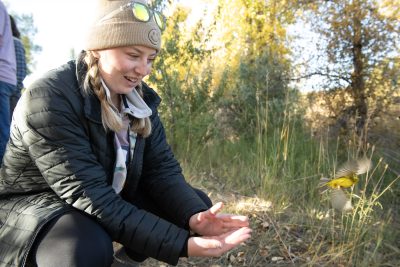 "This internship is a golden opportunity to truly understand how this career looks in the field and how my lecture topics are related," Therese Turner, a UW student from Broomfield, Colo., says of her fall internship.
"While at the university, gaining experience in the field I want to pursue makes my UW experience so much better," adds Howarth White, a UW junior from Rawlins majoring in wildlife and fisheries biology and management. "Working on projects like this makes me want my degree all that much more."
"Apart from providing students with opportunities to learn from other faculty and students conducting research on birds, getting to observe the excitement of students handling wild birds for the first time is very meaningful," says Anna Chalfoun, a WYOBIRD co-director, a UW associate professor of zoology and physiology, and an assistant leader in the Wyoming Cooperative Fish and Wildlife Research Unit.
Emily Shertzer, a fourth-year Ph.D. student from Philadelphia, Pa., in the Program in Ecology and Evolution, can attest to the initiative's benefits.
"WYOBIRD already has benefited me by helping me build my mentorship skills at the banding station; networking with other researchers in the InterMountain West; and having a stronger community of fellow bird watchers," says Shertzer, who works in Chalfoun's lab. "I hope to see all of these benefits as WYOBIRD grows."
She adds, "Also, since the birds I research are species that are declining in Wyoming, I really hope to see WYOBIRD engage other Wyomingites in bird conservation in the future."
Beyond the field, WYOBIRD provides outlets for students to engage in networking and skill development, both at UW and externally. Interactions with invited speakers; meetups with professional ornithologists and students from other labs; and workshops that cover cutting-edge themes are valuable. They spur critical thinking and support collaboration while building quantitative skills needed to conduct research.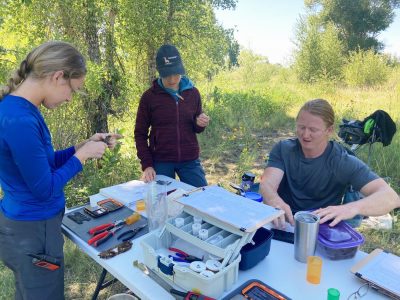 "WYOBIRD provides a platform for scientists of diverse career stages and interests to come together to exchange ideas and to gain new skills, from fieldwork to data analysis," says Mary De Aquino, a second-year Ph.D. student from Placerville, Calif., in the Program in Ecology and Evolution.
Students also improve their science communication during outreach events by engaging with various audiences who leave with an appreciation of birds; awareness of the avian research conducted at UW; and a better grasp of how the type of information collected can inform conservation.
"It is incredibly rewarding to be part of an initiative like WYOBIRD. As scientists, we always want our research to matter—to reach and connect with budding scientists and the broader public," De Aquino says. "By involving developing scientists in research and connecting research efforts with the community, WYOBIRD is helping to make this happen."
While WYOBIRD faculty are in the UW Department of Zoology and Physiology, involvement in the initiative is open to all UW students interested in studying birds.
"One thing that we're all proud of is the new small-grant program to help international students with moving costs or equipment such as new computers," says Patrick Kelley, a WYOBIRD co-director and an assistant research scientist of zoology and physiology.
WYOBIRD also provides UW credit hours to undergraduate interns with the goal of securing funding to provide paid internships in 2024 and beyond. During UW's recent Giving Day, Tarwater says WYOBIRD secured enough funding to pay for three undergraduate interns for one semester.
"I have seen a great deal of excitement from undergraduate and graduate students, and us faculty," Tarwater says. "It is wonderful to be a part of it and to work together to benefit students. I am excited to help it grow and to build new relationships with the community."
WYOBIRD currently has 19 members, including UW faculty, graduate students, and undergraduate students working in labs. Additionally, the initiative, thus far, has a dozen undergraduate avian interns. Six of those interns participated in the summer nest box study, which began in May, while the other six interns worked at the fall banding station.
For more information about WYOBIRD, go to www.wyobird.org or email wyobird@uwyo.edu.
This story was originally published on UW News.