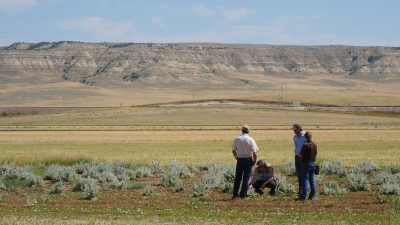 The University of Wyoming's Sheridan Research and Extension Center will host a forage-themed field day Wednesday, June 21, at the Wyarno Farm.
The event, which is free and open to the public, will focus on dryland hay and forage crops as well as native plants and rangeland restoration. Registration starts at 8:30 a.m. at 663 Wyarno Rd.
Field tours begin at 9 a.m. with a light lunch served at noon. Presenters will discuss alternative forage crops, the effects of seed timing, native plant evaluation, seeding native plants with indaziflam, drought tolerance in soybeans, inter-seeding cover crops, and more.
"Our field days give people in the region a chance to see some of the current research with their own eyes," says Brian Mealor, director of the Sheridan R&E Center. "I think it gives a much different perspective when they can directly interact with people doing the research rather than just reading a final report. It's a great opportunity for us to learn together."
Attendees are asked to RSVP by contacting the Sheridan R&E Center at shrec@uwyo.edu or (307) 673-2856 no later than Wednesday, June 14.
The Sheridan Research and Extension Center will host a second field day at the Adams Ranch property on Wednesday, August 2.