The University of Wyoming Extension has partnered with the City of Rawlins to offer free Arbor Day events Friday and Saturday, June 2-3. Activities include a geodesic dome build at the Rawlins Urban Orchard and presentations on tree care, landscape design, deer-resistant plants, water-wise landscaping, and more.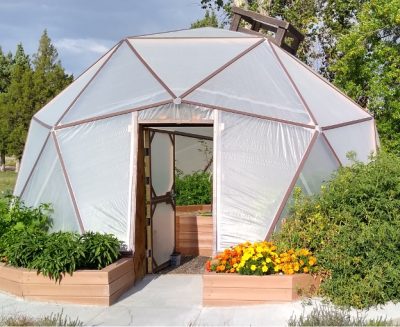 "Arbor Day is on the calendar in April, but you can celebrate whenever you want," says Abby Perry, a UW Extension educator based in Rawlins. "It's a good opportunity to hear from experts in the state who aren't always in Rawlins."
All events are free and open to the public. Attendees are encouraged to RSVP by contacting the Carbon County Extension office at (307) 328-2642. The first 30 attendees who RSVP will receive a free gift.
The festivities kick off on Friday with a tree sale beginning at 12 p.m. in the Rawlins Rec Center and a geodesic dome build starting at 1 p.m. at the Rawlins Urban Orchard. UW Extension educator Jeff Edwards will lead the geodome build. Six to ten volunteers are invited to participate in building the frame and skinning the structure; all are welcome to watch and learn.
For those interested in constructing their own geodesic domes, limited copies of a draft manual will be available for purchase.
In addition to geodome building, two tracks of free classes, one focused on trees and the other on landscaping, will be offered at the Carbon County Higher Education Center. Sessions begin at 9 a.m. and conclude at 3:30.
Meals are not provided, but food trucks will be available at the Rawlins Rec Center on Saturday, starting with Mukwano Coffee Roasters and Wyo Bowls at 9 a.m. Additional food truck offerings will be available at 11 a.m.
In addition to the City of Rawlins and UW Extension, event sponsors include Barnyards & Backyards, Carbon County Higher Education Center, Carbon County Weed and Pest, Rawlins Rec Center, Saratoga-Encampment-Rawlins Conservation District, Sheridan Community Forestry Program, and the Wyoming State Forestry Division.
For more information, contact the Carbon County Extension office at (307) 328-2642.