At an annual awards banquet earlier this month, the Wyoming Agricultural Experiment Station (WAES) honored faculty and staff for exemplary performance and research accomplishments.
WAES is the research arm of the UW College of Agriculture, Life Sciences and Natural Resources. Honorees recognized at the banquet, held in Laramie, included staff members at research and extension centers operated by the experiment station as well as campus-based faculty.
UW meat scientist earns Early Career Research Award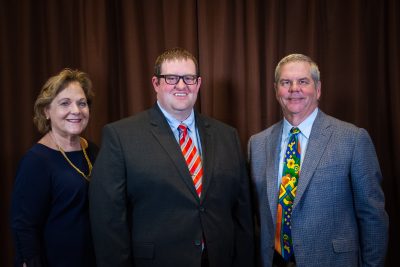 Cody Gifford, assistant professor of meat science and meat lab supervisor in the UW Department of Animal Science, received the 2022 WAES Early Career Research Award. This award recognizes outstanding research conducted by scientists with less than six years of experience directing their own independent research program.
"Dr. Cody Gifford exemplifies the highest quality of faculty at UW," says WAES Director Eric Webster.
Gifford's research focuses on meat quality and flavor, live animal management factors that impact carcass and sensory characteristics, and the role of meat products in human dietary programs.
"The research breadth that Dr. Gifford is involved with speaks to his diverse skillset and success as a collaborator," comments Hannah Cunningham-Hollinger, assistant professor of animal genetics.
"He has outstanding expertise in meat science at the basic and applied level, knowledge and experience in production systems of both cattle and sheep, and additional expertise in human nutrition."
Senior faculty member recognized for research in molecular biology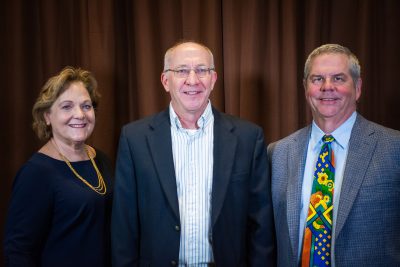 Dan Wall, professor of molecular biology, is best known for his study of microbial social interactions. His research focuses on kin recognition in myxobacteria, organisms that engage in complex social interactions and serve as models for understanding the evolution of multicellularity.
In recognition of his world-renowned research contributions, Wall received the 2022 WAES Outstanding Research Award, an honor awarded to established scientists in the College of Ag.
"Dr. Dan Wall is one of those scientists who could be working in a high tech medical-related business, but chooses to use his talents as a researcher and teacher at UW," comments WAES Director Eric Webster.
Since 2007, Wall has led an active research group at UW with funding from the National Science Foundation and National Institutes of Health.
"The Wall lab's research on microbial kin is widely recognized," writes Jay Gatlin, head of the Department of Molecular Biology. "Dr. Wall's excellence extends to all aspects of his scholarship—he is not only a great scientist, but also an amazing teacher and mentor."
Research and extension center staff honored for service, dedication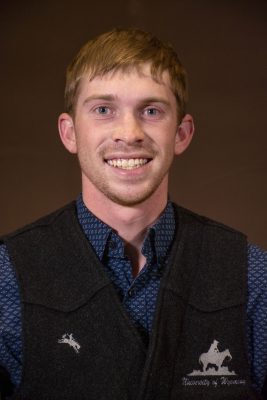 Two individuals received the 2022 Kathleen Bertoncelj WAES Staff Award. Created in honor of Bertoncelj, a longtime WAES staff member, the award recognizes employees who excel in their positions.
According to his colleagues and supervisor, Tyler Jones embodies the spirit of the award. Jones is the assistant manager of research, outreach, and production at the Sheridan Research and Extension Center (ShREC).
"He is the perfect combination of researcher and farmer, utilizing what he's learned in both areas. He makes us all better with his dedication and can-do attitude," writes a co-worker and nominator.
"It is hard to find someone who can successfully produce high-quality agricultural products; design, implement, analyze, and interpret research studies; and do it all with humility and genuine care for others," adds ShREC Director Brian Mealor.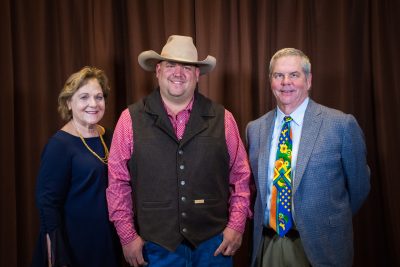 Ben Hollinger, assistant farm manager at the Laramie Research and Extension Center (LREC), also received a 2022 Outstanding Staff award.
Faculty and students agree that Hollinger is instrumental to the success of UW's agricultural research program. "We are very lucky to have Ben on board," comments LREC Director Scott Lake.
Hollinger juggles maintaining the LREC beef herd, including raising purebred Hereford and Red Angus cattle; supporting graduate and faculty research; and managing a team of undergraduate student workers, among other duties. In 2023, he helped launch the inaugural UW High Altitude Bull Test.
"Ben has positively impacted numerous students, staff, faculty, and stakeholders," says Cody Gifford, assistant professor of meat science. "Ben has been very effective in administering improvements at LREC and has showcased extensive forward thinking for research, educational, and extension programs."
For more information on the Wyoming Agricultural Experiment Station, visit www.uwyo.edu/uwexpstn.