Outstanding faculty and staff in the University of Wyoming College of Agriculture, Life Sciences and Natural Resources were recognized at the College's annual awards banquet in Laramie earlier this month.
Award recipients included members of the Department of Ecosystem Science and Management, Department of Veterinary Sciences, University of Wyoming Extension, and Laramie Research and Extension Center.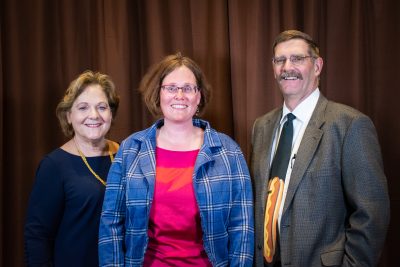 College and Extension educators recognized for excellence in teaching
Two faculty members in the UW College of Ag—Berit Bangoura, assistant professor of veterinary sciences, and Karen Vaughan, associate professor of ecosystem science and management—received 2022 Outstanding Educator awards.
"Dr. Bangoura has excelled as an instructor because she is very knowledgeable in the field of parasitology, has invested in building her didactic skills, and engages with students in a way that demonstrates her passion for education," comments Jonathan Fox, head of the Department of Veterinary Sciences.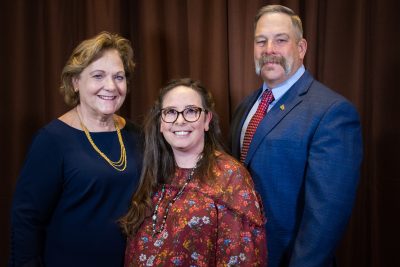 Like Bangoura, Vaughan is known for her ability to connect with students. "Karen is a wonderful and effective teacher," says Tim Collier, head of the Department of Ecosystem Science and Management. "She's dedicated and passionate, and inspires keen interest in soils in her students."
Three members of UW Extension were also recognized as outstanding educators.
Goshen County 4-H Educator Megan Brittingham excels at mentoring and supporting both 4-H youth and colleagues, says Kelly Crane, director of UW Extension. "Megan has proven to be especially adept at expanding the breadth of 4-H programming in Goshen County, especially in the integration of STEM topics in schools. She also provides really outstanding support for her colleagues at a state, regional and even national scale."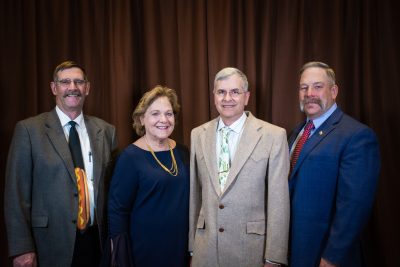 Barton Stam, an extension educator based in Hot Springs County, was also recognized. Stam is approachable, objective, and considerate of other people's viewpoints, says Crane. "These character traits position him well to address complex, conflict-laden natural resource issues. He is one of our most effective and engaged extension educators."
UW Extension Entomologist Scott Schell also provides exemplary service to stakeholders across the state. "Scott Schell is among our best extension specialists in terms of his responsiveness to the public and his colleagues, and in terms of his teaching capacity and ability to connect with extension audiences," Crane notes. "He's truly a servant of the state."
Means receives lifetime teaching honor
The Andrew Vanvig Lifetime Distinguished Faculty Achievement Award honors a senior faculty member's accomplishments in the areas of teaching, research, scholarship or creative activities, outreach, and service. This year's recipient is Warrie Means, associate dean of academic and student programs in the College of Ag.
Originally from Montana, Means joined UW's animal science faculty in 1992. For most of his career, he has taught classes in meat science, food science, and animal science as well as contributing to research and extension programming. Teaching was what brought him to UW and what kept him at UW, Means says. "Those are the high points—when you actually make an impact on a student and excite them about learning."
He considers extension programming a key part of his career as well, noting that his extension appointment "has always kept me grounded in the practical aspects of meat science and livestock production. That helps a lot in teaching, being a faculty member who also understands the issues producers face in the state."
For the past five years, Means has served as an associate dean.
"Warrie is a truly outstanding colleague and a deserving recipient of the Vanvig award as a teacher in animal science/food technology and for his exemplary service to our students," comments Dean Barbara Rasco. "He clearly puts the students and their needs first and is an inspiration for all of us in his tireless dedication to this institution and the people of the state."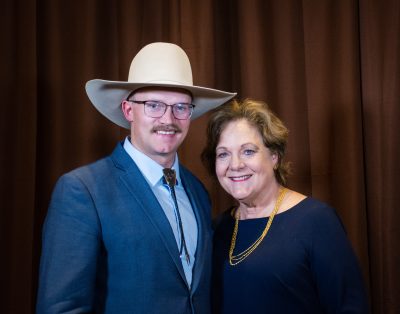 College of Ag staff go above and beyond
Accountant Tanya Wheeler was one of two staff members to receive the UW College of Ag's 2022 Outstanding Staff Award. "Tanya has been incredibly helpful to me since I started as department head," says Tim Collier, associate professor in the Department of Ecosystem Science and Management. "She is always helpful and cheerful. I'm happy to see her recognized."
Elias Hutchinson, assistant farm manager at the Laramie Research and Extension Center, is also very deserving of the award, says Scott Lake, director of the Laramie Research and Extension Center.
"Elias juggles between 4-H, rodeo, classes, and public events at the Hansen Arena. He is a great asset to LREC and we are truly fortunate to have him." Hutchinson is also the handler for Pistol and Pete, UW's Haflinger draft horse team.
To learn more about the UW College of Agriculture, Life Sciences and Natural Resources, visit http://www.uwyo.edu/uwag.