So many times in Kinley Erickson's young life, she doubted that she could ever finish school — not due to poor grades, but because of what life has thrown the Ten Sleep student's way the last few years.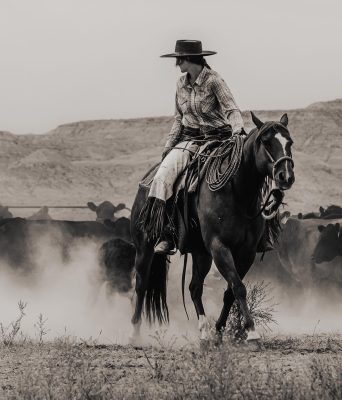 Erickson, who regularly appeared on University of Wyoming honor roll lists — including the President's Honor Roll for earning a perfect 4.0 grade-point average — will graduate Saturday, May 13, with a bachelor's degree in animal science, with a concentration in production, and a minor in agricultural business.
"The last four years here at UW have kind of been a wild ride, but I would not change anything," Erickson says. "I have made lifelong friends and had great experiences. In addition, I have learned and grown in ways that I would not have if I had just had a 'normal' college experience without any challenges."
Those challenges — related to the COVID-19 pandemic and her mother's serious illness — required Erickson to push particularly hard to succeed in earning her UW degree.
"Throughout a student's time at UW, we don't really know exactly what any student is going through. Some barely have enough money to pay for rent and food, especially when spring hits, and some students experience challenges in the classroom, struggling to finish coursework," says Shelley Dodd, UW's director of admissions. "As we move through our life, there are always stories behind the stories. What we show to the outer-facing public may not be what we are facing internally."
A UW Family
There was never any doubt that Erickson would go to UW for her college education because she comes from a long line of UW graduates as a member of the Shanor family.
Her great-grandparents, Laverne McIntosh and Donald Shanor, met while attending UW, working together in Knight Hall's dining room. Erickson now works in Knight Hall in the Office of Admissions.
Donald Shanor was the 1942-43 Associated Students of UW president. Both Erickson's great-grandparents received education degrees in 1943. Erickson's grandfather, Roger Shanor, attended UW on a football scholarship in 1969, and her grandmother, Jacqulin Shanor, graduated with an education degree in 1975. Erickson's mother, Nikki (Shanor) Erickson, graduated with a psychology degree in 2000, and Kinley Erickson's older sister, Riley Lindstrom, graduated two years ago with an animal science degree. Additionally, several other Shanor family members have graduated from UW.
"Making the choice to come to UW was not hard at all. My sister had already been down here two years, and I was pretty sure that is what I wanted to do," Erickson says.
But, coming from tiny Ten Sleep — located in the western foothills of the Big Horn Mountains with a population of just under 280 — the transition to Laramie was a culture shock for Erickson. Her mother convinced her that she would be all right — coming to UW would be good for her to grow as a person.
Then, the COVID-19 pandemic hit, forcing UW to go strictly online.
"The fall 2019 entering new first-time class was thrown for a loop with COVID. They had to figure out how to take courses via Zoom, learn course materials at a distance and to stay flexible when there was so much unknown around them," Dodd says. "It certainly was not a normal freshman year."
Ever since Erickson learned to walk, she was riding horses on the ranch. The pandemic was actually good for her wellbeing because she was able to go home and be among her support group once again.
"Being sent home for COVID was actually ideal for me because I got to go right home and start working on the ranch. Of course, we were all navigating having to do online school, but I was doing that at night and riding my horses and working cows during the day," Erickson says. "It was hard to decide to come back after COVID, but my sister was already here in Laramie and, even though my roommates did not come back that year, I brought my horses and dog back with me — so, I had my favorite things from home, and it worked out OK."
The Bad News from Home
After adjusting to life back on campus, Erickson's life was turned upside down to begin her final year at UW last fall semester. Her mother was diagnosed with triple-negative breast cancer late in September. Nikki Erickson is in the middle of a long journey, but she is doing better, having just finished 24 weeks of chemotherapy. She is facing surgery in the coming weeks, followed by up to six weeks of radiation treatments.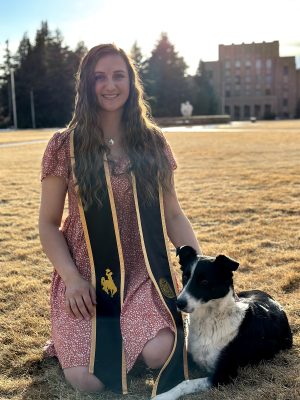 Kinley Erickson immediately wanted to go home to be with her family, but her mother only wanted the best for her daughter — she wanted her to complete the journey she started in fall 2019.
"I knew that if I were to take any time off school, then it would be even harder to come back eventually," Erickson says. "I knew that I had to just work hard, get through school and get it done. My mom has been an inspiration for me through these difficult times because I know that, if she can deal with cancer and do chemo, and then still teach at school — I can finish college."
She credits Dodd, her UW supervisor in the admissions office, for being her support on campus. Dodd would regularly check in on her student worker, knowing what she was going through in her personal life.
"Kinley stayed at UW to finish her fall semester. During this time, she was stoic, went to class, went to work, took care of her horses, but she also worried about her mom," Dodd says. "This spring semester has been the hardest. Kinley had no desire to attend commencement for fear that her mom would not be there. But she realized, by getting her cap and gown and walking across the commencement stage, it would give her mom hope and something to work toward."
Erickson plans to return to Ten Sleep after graduation to work on the Double H Ranch with her dad, Paul, through the summer and fall. She will decide on her future after that.
"I think staying in school and graduating will help me in my future life because, after seeing my mom in this condition and knowing all the stuff that she continues to do even though she doesn't have to, it inspires me that I can do anything I put my mind to, regardless of my situation," Erickson says. "My mom was always the one convincing me to come back to school. She would tell me to stick it out, get my degree and then go out and do anything I wanted to after that."
That is the Shanor family upbringing, knowing the importance of a college education.
This story was originally published on UW News.