Mini-grants for Wyoming childcare centers seeking to encourage physical activity and healthy eating habits are now available through the University of Wyoming Extension's Cent$ible Nutrition Program (CNP).
From January through September 2023, CNP will award 20-25 mini-grants to childcare centers across the state. Grants are open to all licensed childcare centers in Wyoming. Childcare centers can apply for up to $500 to purchase materials that improve nutrition and physical activity practices.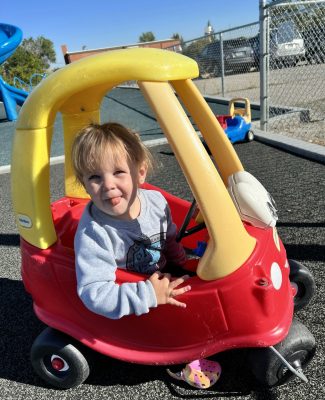 Funding is made possible by a partnership between CNP, the Maternal and Child Health Unit of the Wyoming Department of Health Public Health Division, and the Wyoming Head Start Collaboration Office through the Wyoming Department of Education.
Launched in summer 2022, it has funded 17 childcare centers to date and is set to open up a second round of funding in 2023.
"Building healthy habits that last a lifetime starts during childhood and childcare centers can play an integral role in establishing these habits," says Mindy Meuli, director of CNP. "With this mini-grant program, we aim to support childcare centers in creating environments that encourage healthy childhood nutrition and physical activity practices, particularly those centers serving families with limited resources."
In the first round of funding, which opened in July 2022, many of the centers applied for materials to increase physical activity to the recommended daily amount of 120 minutes for preschoolers and 60–90 minutes for toddlers.
Through their mini-grant, Casper's Excel Academy received new riding toys and trikes, which have been a big hit with the kids."The students of Excel Academy, as well as the staff, are extremely delighted to have the new equipment," reported Director Jennifer Winstisen. "Our students were using riding equipment that had three good tires and one bad, trikes that were bent, Cozy Coupes with no doors, cracks etc."
Several centers also applied for materials to help support nutrition and eating practices at the center, such as family-style dining set ups, water bottles, and kitchen equipment for prepping nutritious meals.
"This mini grant improved the overall quality of my program by addressing health and nutrition areas that I had not addressed," commented Sara Allison, director of Learning Safari Childcare in Green River. "I was able to purchase individual water bottles for each child and several large motor playsets to meet the two hours of active play goal during months that it's too cold to play outside."
To assist childcare centers in identifying best practices, CNP educators partner with centers to complete a checklist of recommendations from the Wyoming Healthy Policies Toolkit. The Healthy Policies Toolkit was adapted and released by the Wyoming Department of Workforce Services, WY Quality Counts, the Wyoming Department of Health, and CNP in 2019. It is a tool of best practices for creating an environment for healthy behaviors to become established.
The checklist helps centers identify areas where they would like to make changes and guides them through the mini-grant application process. Applications are sent to and reviewed by staff in the CNP state office, which then purchases the requested items and sends them to centers.
"It was fast and easy to apply for, the ordering and delivery of items from the list was smooth," Allison reported.
The second round of funding opened on January 23, 2023. "We are excited to connect with childcare centers and form new partnerships," says Meuli. "This has been a successful pilot of the mini-grants and we look forward to a great second round of the program."
For more information, visit https://bit.ly/ece-grants-2023.