The University of Wyoming Wool Judging team wrapped up a successful 2021-2022 season with a fourth-place finish at the San Antonio Livestock Show and Rodeo wool judging competition on February 11. It was the highest UW has placed in a Texas contest since the revitalization of the wool judging program.
"I am so proud of the team members, assistant coaches and industry support that this program has received," says UW Wool Judging Head Coach and Sheep Extension Specialist Whit Stewart.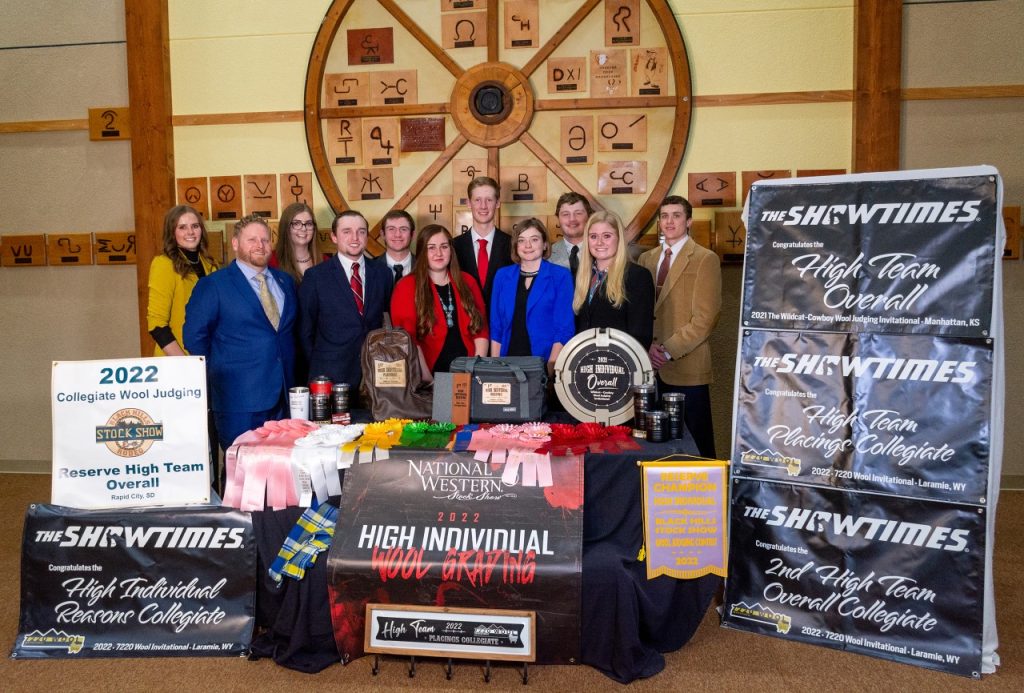 In San Antonio, the team finished fourth overall, fourth in oral reasons, fourth in placings, and fourth in the grading rail. "To consistently be in the top three to five in all our contests this spring really shows the dedication to the program we have built here at UW," Stewart remarks.
Members of this year's wool judging team included Wyatt Crane from Wheatland; Macy Collins, Meeker, Colo.; Tessa Maurer, Arvada, Colo.; Casey Spencer, Sonoma, Calif.; Jacob Smylie, Douglas; Kylie Strauch, Van Tassell; and Payton Timberman, Moorcroft. Assistant coaches were Dylan Laverell, Amy Newman, and Courtney Newman.
The team kicked off the season in December 2021 with an impressive first-place finish at the WildCat-Cowboy-Jackrabbit Invitational in Manhattan, Kansas. In addition to earning high team overall, they were also the first team in reasons, placings, and grading rail.
At the 7220 Wool Judging Invitational on January 11, 2022 in Laramie, the team placed second overall. They also finished as high team in placings, third high team on the grading rail, and the second high team in value-added.
Two days later, at the National Western Stock Show Wool Judging Contest in Denver, Colorado, the UW team took fourth overall. They also placed second high team on the grading rail, third high team in reasons, first and second in value-added, and fourth in the hand-spinning contest.
In the fourth competition of the season, the Black Hills Stock Show in Rapid City, South Dakota, the UW wool judgers placed second overall. They were also the high team in reasons, placings, and value-added.
Incoming lead coach Courtney Newman says that the 2021-2022 judging season "was the best one yet. All seven team members worked extremely hard and they were rewarded with a successful season." More importantly, "Each one will use their skills to achieve great things in their studies and personal lives."
For team member Macy Collins, "Starting off as strangers and building an unbreakable bond after four months is the most rewarding aspect of wool judging. I will forever think of the wool judging team as family."
Coach Newman is already excited for next season. "We're looking forward to building off the success of last season and using the momentum those seven individuals brought to have an even more successful team next year."
To learn more about UW's wool judging program, please visit the University of Wyoming Extension Sheep Program page on Facebook. To inquire about joining future teams, please contact Whit Stewart at whit.stewart@uwyo.edu.