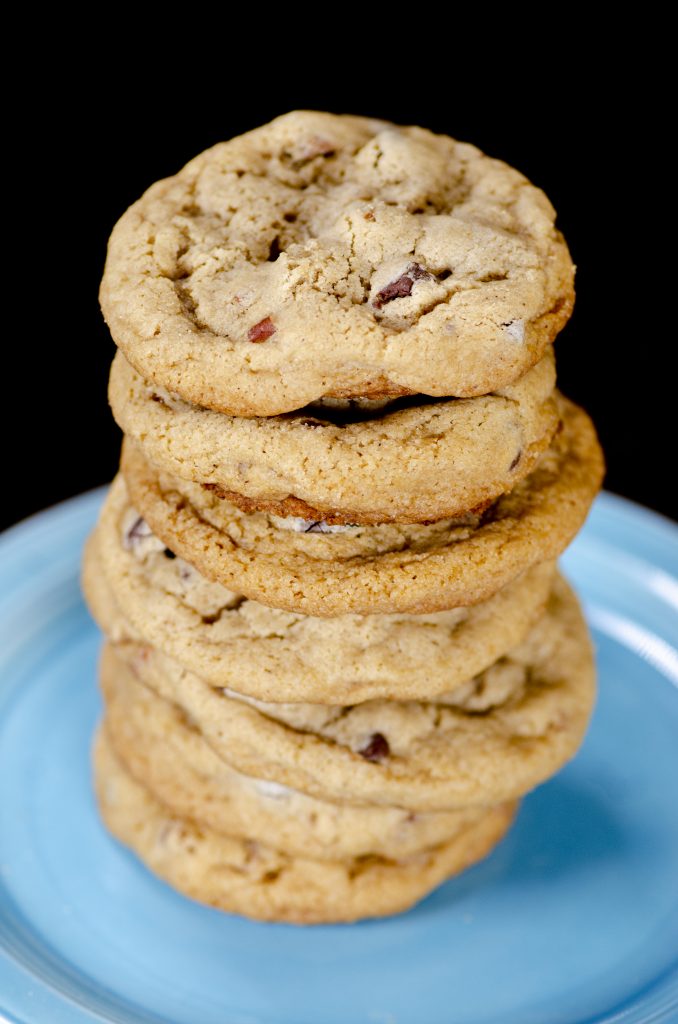 Chocolate Chip Cookies
Prep time: 20 minutes

Baking time: 13 minutes per pan

Total time: 1 hour

Servings: 36
Ingredients
3¾ cups (450 g) all-purpose flour (spoon and level to measure)

¼ cup (28 g) corn starch

2 teaspoons baking soda

¾ teaspoon salt

½ teaspoon ground cinnamon

1½ cups (339 g) unsalted butter, room temperature

1½ cups (320 g) brown sugar, firmly packed

½ cup (99 g) sugar

2 large eggs, room temperature

1 tablespoon vanilla extract

1 cup (170 g) dark or bittersweet chocolate chips

½ cup (89 g) semi-sweet mini chocolate chips

1 cup (113 g) walnuts or other nut of your choice, chopped (see Note)

Parchment paper or non-stick baking mats
Instructions
Preheat the oven to 350°F. Line 2 baking sheets with parchment paper or non-stick baking mats. Set aside.

In a bowl, whisk together the flour, corn starch, baking soda, salt, and cinnamon; set aside.

In a large bowl, using an electric mixer, beat the butter, brown sugar, and sugar until light and fluffy, about 5 minutes. Scrape sides of the bowl as needed.

Add eggs, one at a time, mixing well after each addition. Stir in the vanilla.

Reduce mixer speed to low, slowly add the flour mixture and mix until just combined. 

Fold in the dark chocolate chips, semisweet chocolate chips and the walnuts.

With a medium cookie scoop (#40 or #50/about 1½ tablespoons), portion out the cookie dough. Place 2 inches apart on the baking sheet. 

Bake cookies for 9–14 minutes or until the edges are slightly golden. 

Remove from the oven and let cool on the baking sheet for 2–5 minutes before transferring to a wire rack to completely cool.

Store cookies in an airtight container. Freeze for longer storage.
Note: For nut-free cookies, replace the 1 cup of nuts with 1 cup of chocolate chips.