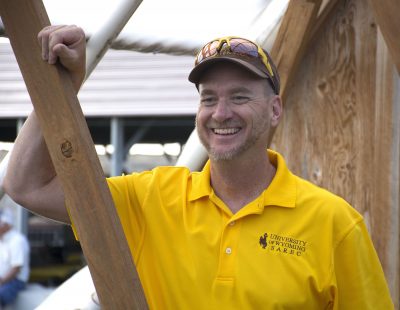 A program for those seeking a new commercial pesticide applicator license is being offered online in December, and recertification continuing education units (CEUs) for commercial pesticide applicators will be Jan. 18-20 in Casper, according to the University of Wyoming Extension.
The new commercial applicator program will be presented in four-hour blocks Dec. 7-9, said Jeff Edwards, UW Extension pesticide safety education program coordinator.
New commercial pesticide applicators are not required to participate in an education program.
"However, we understand we all have different learning styles, and some may find the information a useful review of the training manuals prior to taking your exams," said Edwards. "We highly encourage you to read all manuals pertaining to the category in which you plan on taking exams. Your rate of passing will significantly increase if you read the training manuals."
Edwards said PDFs of all manuals are available for viewing or download, including an order form for hard copies, at http://bit.ly/wy-pesticide-training.
"You must pass the CORE and at least one other category exams with a minimum of 70 percent in order to be issued a license," he said.
The Zoom meeting link will be sent to registrants by Wednesday, Dec. 1.
Classes start 8 a.m. each day. The schedule is:
Tuesday, Dec. 7­ — Manual review (1-8); Worker Protection Standard; What to expect when a state inspector inspects.
Wednesday, Dec. 8 — Insect Biology, ID, Insecticide Mode of Action; Calibration.
Thursday, Dec. 9 — Weed Biology, ID, Herbicide Mode of Action; Plant disease and control. (Review of topics from Categories 901A, B, & C and 903 A, B, & C).
Registration for the program is at https://bit.ly/new-cert-commercial.
Program content of the recertification program in Casper at the Ramkota Best Western is still being finalized, said Edwards. Conference registration is at https://bit.ly/re-cert-commercial.
He said 24 CEUs will be available. The schedule is 1-5 p.m. Tuesday, Jan. 18; 8 a.m.-5 p.m. Wednesday, Jan. 19; and 8 a.m.-1 p.m. Thursday, Jan. 20
"If you are unwilling or unable to attend the in-person meeting, you can still receive up to 8 CEUs if you participate in the simulcast of Wednesday's meetings," said Edwards.
Registration costs $125 plus Eventbrite processing fees. The simulcast program will be available via Zoom link sent to registrants.
For more information, contact Edwards at jedward4@uwyo.edu or 307-837-2956.