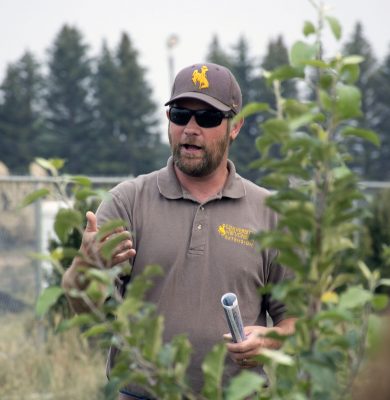 Those enrolling in the online Master Gardener training with the University of Wyoming Extension can participate in live sessions or view recorded sessions.
Live sessions are Tuesdays Sept. 7-Dec. 12, said Chris Hilgert, state Master Gardener program coordinator. Classes are recorded, so if unable to attend the live class, recordings can be viewed when convenient.
"If you have a passion for gardening, the Master Gardener training is for you," he said. "Classes are taught by UW Extension experts and focus on gardening in Wyoming's uniquely challenging growing environment."
Register online at  bit.ly/uwyo-master-gardener-fall21. Registration is $150 and includes the electronic copy of Sustainable Horticulture for Wyoming: A Master Gardener Handbook. The 13-week training provides approximately 40 hours of landscape and gardening education, said Hilgert.
The class schedule is:
Sept. 7 – Introduction and Overview of the Master Gardener Program
Sept. 14 – Basic Botany
Sept. 21 – Soils, Fertility and Composting
Sept. 28 – Extending the Growing Season
Oct. 5 – Growing Vegetables and Herbs
Oct. 12 – Fruit Trees and Berry Crops
Oct. 19 – Herbaceous Plants
Oct. 26 – Woody Plants
Nov. 2 – Lawn Care
Nov. 9 – Integrated Pest Management
Nov. 16 – Plant Diseases and Diagnosing Plant Problems
Nov. 23 – No class (Thanksgiving week)
Nov. 30 – Entomology
Dec. 7 – Volunteering in the UW Extension Master Gardener Program