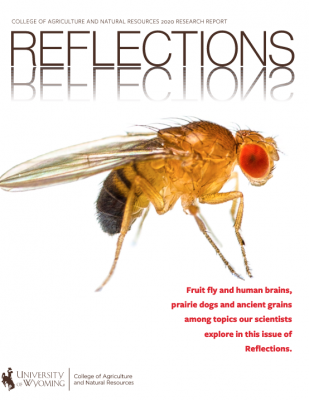 The office, in the College of Agriculture and Natural Resources, received several honors.
"I couldn't be prouder of our UW Extension Communications & Technology team continuing to persevere and produce award-winning work despite the COVID pandemic," said David Keto, office manager. "Even while working remotely, our team continued to collaborate seamlessly on joint projects and continued to share the best of extension knowledge across Wyoming and beyond."
The college's research magazine Reflections received a gold in the technical publications division. The magazine is edited by Steve Miller and designed by Tanya Engel, with articles written by scientists in each of the college's departments plus a selected student paper. The 2020 edition of Reflections is at bit.ly/uw-reflections2020. Miller received a gold award in newspaper stories for an article last October originating from Torrington about growing giant pumpkins. That story is at bit.ly/giant-pumpkins.
Brittney Gross, extension's instructional technology educational specialist, received a silver for Qualtrics survey software training. That training is at bit.ly/uw-qualtrics-training.
Engel, with writer Katie Shockley, received a bronze for the extension publication Raspberry Production Guide for Wyoming. That free extension publication is available for viewing or downloading at bit.ly/WyoRaspberryProduction.
Another publication, the Wyoming Integrated Pest Management Calendar designed by Engel, received a bronze. Videographer Lindsay Hadfield also received a bronze in information technology for a meat fabrication and identification project. That course is at bit.ly/4Hmeats.
Keto said the office in the early days of COVID trained and helped others in UW Extension adapt to remote educational delivery.
Gross' training, even though meant for internal audiences, highlights the consistent quality of extension products to reach any audience, he said. He complimented Miller's efforts to tell stories and traveling safely in the state when articles required a personal touch.
He said the office continues to excel at creating unique and compelling long-form bulletins thanks to collaborations like the one between Engel and Shockley. Hadfield's project to create a dynamic video-driven training about meat fabrication and retail identification should serve 4-H youths in the meat judging project, animal science students, hunters and foodies well into the future, Keto said.
"In short, I continue to be nothing but thankful for our amazing team and their great work," he said.
Stories, videos, publications and more information about the UW Extension, the Wyoming Agricultural Experiment Station and College of Agriculture and Natural Resources are at https://uwagnews.com.