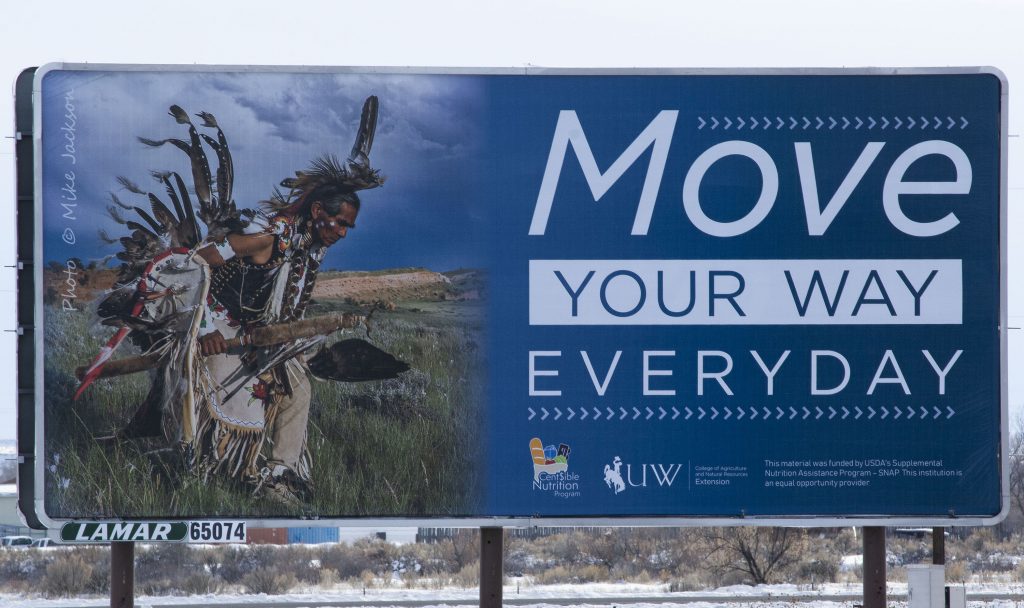 Two billboards featuring a Native American in full traditional dance regalia is helping send a culture-specific message of the importance of health and physical activity to residents of the Wind River Indian Reservation.
The billboards, one just south of Riverton and the other near Lander, depict John Pingree in a traditional dance with the message "More Your Way Every Day."
The billboards, a project of the Cent$ible Nutrition Program in the University of Wyoming Extension, went up in January and are expected to be taken down this month, said Kelly Pingree, extension educator on the WRIR. CNP is a free, income-qualifying, cooking and nutrition education program in Wyoming that can help people cook and eat better for less money.
Kelly said the billboards are an effort to raise overall health on the WRIR.
"We have such a pandemic of obesity, diabetes and heart disease, and that's on pretty much any reservation," she said. "Since we've gotten colonized more than 180 years ago, our lives have gotten more sedentary. There is really not a lot of moving about or having to work and hunt and gather like we used to."
Pingree started with CNP, a program in the College of Agriculture and Natural Resources, in 2016. Billie Spoonhunter recently joined her in the CNP office on the WRIR.