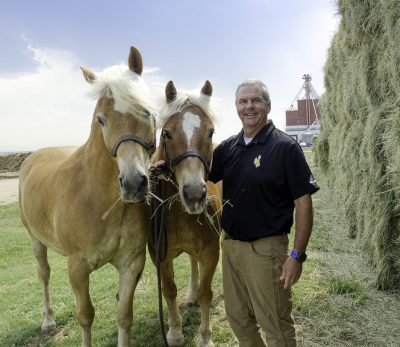 The new director of the Wyoming Agricultural Experiment Station joined the University of Wyoming Tuesday, July 6, in the College of Agriculture and Natural Resources.
Eric Webster previously was director of the Louisiana State University's Iberia Research Station and assistant regional director of the LSU AgCenter's southwest region. Research at the station includes cattle grazing and herd management studies and row crop research including wheat, soybeans, sugar cane and rice.
College of Agriculture and Natural Resources dean Barbara Rasco said Webster will be a great addition to the college administration team.
"His experience in plant biology, crop production and technology transfer will help the college move forward with our initiatives to support Wyoming agriculture and more specifically to improve crop and forage production and control invasive plants across the state," she said. "We look forward to him leading broad, college-wide initiatives in research and infrastructure improvements across the state."
The WAES is the college's research arm and also directs research and extension centers at Laramie, Powell, Sheridan and the James C. Hageman Sustainable Agriculture Research Center near Lingle. More information about AES is at bit.ly/wyoming-aes.
Webster's research has focused on weed control in conventional rice and herbicide-resistant rice and has become highly visible across the U.S. and internationally, according to LSU.
The southwest region has 15 parishes (counties) and two research stations, including Iberia, near Jeanerette in southern Louisiana. He was named assistant regional director in 2013 and director of the Iberia station in 2015.
He has published more than 570 publications as senior or co-author, published 92 journal articles and semi-technical publications, 61 research reports, 56 extension publications and 36 press articles.
Webster joined LSU as a weed science assistant professor in 1997, became an associate professor in 2001 and full professor in 2005.
His teaching duties included plant/herbicide physiology and weed biology and ecology. He received his Ph.D. in weed science from Mississippi State University, and his master's in weed science and his bachelor's degree in agronomy and soils, both from Auburn University.