Earning high team overall at its first contest set the stage for the University of Wyoming wool judging team maintaining a strong season while building and creating leaders.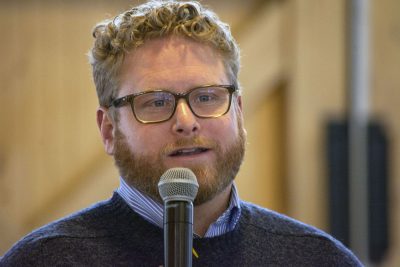 Wool judging team coach Whit Stewart said Courtney and Amy Newman from Fort Collins, Colo., and Dylan Laverell from Big Timber, Mont., served as assistant coaches for the season.
Stewart said he would not be able to coach wool judging and organize contests without the help of his assistant coaches.
"For the past three years, we've had excellent coaches step up," said Stewart, an assistant professor in the Department of Animal Science and UW Extension sheep specialist. "That's really the cool part to me. We really get to train some excellent leaders through this."
Stewart said he is also grateful to the producers who are all tremendously invested in the sheep program at UW.
"Bigger picture, we hope to let people know we are creating leaders and advocates in our industry," said Stewart.
The season started with highest team overall, high team placings and high team reasons at the Cowboy Classic in November held in Laramie.
Jess Moody from Big Timber, Mont., was high individual overall, high individual reasons, third high individual grading rail and second high individual placings. Grace Gullatt from Salem, Ala., was fourth high individual overall and high individual grading rail. Tanner Wright from Laramie was third high individual overall, sixth in grading rail and second in reasons.
The team was third high overall out of 10 teams at the 7220 contest at Laramie.
Katie Costner from Tomball, Texas, was ninth high individual overall, Wright was second grading rail and Gullatt was tenth grading rail.
UW hosted the 7220 contest in January in place of the National Western Stock Show contest that was cancelled due to COVID.
The contest goal was to make the competition more industry relevant and make it a long-standing tradition, shared Stewart.
UW was third high team out of four teams, second high team placings and second high team reasons at the final contest of the season at the Feb. 5 Black Hills Stock Show in Rapid City, S.D.
Costner was seventh high individual overall, sixth placings and fifth reasons. Gullatt was fifth high individual overall, fifth grading rail, eighth placings and sixth reasons. Wright was third high individual overall, eighth grading rail, seventh placings and fourth reasons. Ally Marshall from Gillette was eighth high individual overall, tenth grading rail and fourth placings.