A veterans' living facility that addresses the tenets of social sustainability and equability earned a University of Wyoming student third place in the Pacific west region in the Interior Design Educator's Council (IDEC) competition.
Claire Larson, a senior in the Department of Family and Consumer Sciences (FCS), was given the IDEC competition prompt as part of her contract design class during the fall semester.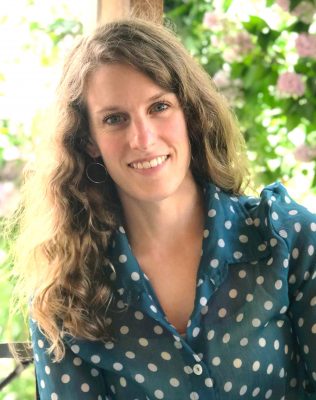 Larson did background research on physical disabilities and mental and psychological impairments veterans might have and how that would affect the design of the space.
"I made sure to include ADA compliancy throughout the building," said Larson. "That could be anything from how wide your corridors are to what the doorknobs and levers look like."
Larson also ensured her design met the basic tenets of social sustainability by referencing Maslow's Hierarchy of Needs, which describes five levels of human needs.
"I made sure to point how my multifunction spaces or even small features like the sinks I chose in my bathrooms and how all of those contributed to people's sense of self and belonging," said Larson.
Each year the IDEC creates a design competition to showcase what designers can offer society with spaces that have the capacity to heal, inspire and compassionately serve those on the margins of society, shared Treva Sprout Ahrenholtz, FCS senior lecturer, in the College of Agriculture and Natural Resources.
"They (IDEC) provide the prompt and all the programming requirements they want you to have in the space," said Larson. "They give you a couple of resources to begin doing background research on the project and an open floor plan. You only get three weeks to complete the project."
There were 81 submissions from 29 different programs nationally.
Sprout Ahrenholtz was not surprised to see Larson's design rise to the top in the region.
"Claire is a very talented and diligent student who shows great empathy and consideration in designs," said Sprout Ahrenholtz. "She solves problems from the user's perspective and makes sure the design solution would function well and be culturally appropriate for diverse groups."
The design had to include a lot of flexibility and distancing arrangements because of the pandemic but also a look to create more flexible spaces in the future, said Larson, a Columbus, Ohio, native.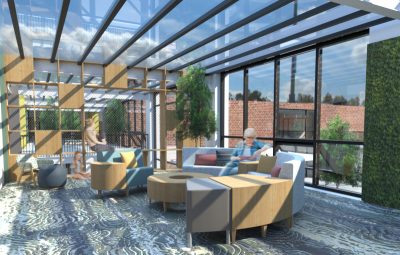 When designing spaces like this, Larson likes to look on the internet, Pinterest, office spaces and libraries for inspiration.
"I think libraries represent really equitable, public spaces in general," said Larson.
Larson didn't originally plan to be on the path of interior design. She graduated from Occidental College in Los Angeles in 2012 with her first bachelor's degree in art history and visual art and came out of the program unsure of where to go next.
She decided to return to school at the University of Wyoming and was headed in the direction of sports nutrition and exercise science but soon realized she didn't want to spend her life doing research.
She decided she wanted to work with people.
"I reached back and dug into my art history background and stumbled on interior design," said Larson. "It sort of matched my interests of science and art together, and it presented an opportunity for me to work more hands-on with people and address problems in people's lives and come up with solutions that work."
Now that Larson has found her passion in interior design, she is looking for jobs in either commercial or residential interior design but is leaning toward residential.
"The pandemic has really shown how important our living spaces and our home environments are," said Larson. "I would like to make interior design a space that is more economically accessible and equitable just because the pandemic has really shown huge disparities in what peoples home lives are like."
She said the IDEC competition was really eye-opening for her and makes her take notice of public buildings not serving everyone to the best of their ability, whether a temporary or permanent disability.
"My goal is to make it easier for everybody to function at home at a basic level of human, happiness and health standards," said Larson.