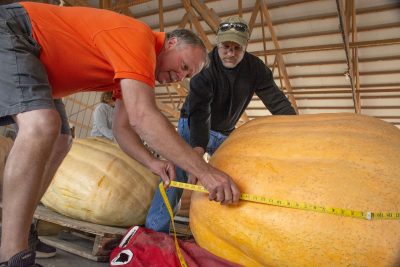 All that carving, tossing, dropping and chucking this time of year could turn any toothy pumpkin smile upside down.
But that sense of humor never changes once pumpkins hit the big leagues – the heavyweights. Jerry Erschabeck of Torrington gave a piece of advice for world leaders during the great pumpkin contest in Torrington Saturday.
"If you want world peace, give everyone a giant pumpkin seed," said Erschabeck, emceeing the competition on a warm fall afternoon, which included kids decorating pumpkins and weight guessing squash and pumpkins.
Goshen County Master Gardeners hosted the giant pumpkin challenge with 4-H'ers selling baked goods and the extension office making and selling pumpkin chili. All proceeds benefitted the county's 4-H program.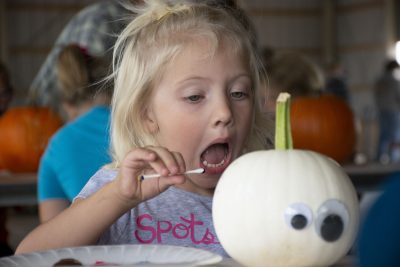 Erschabeck related what happened when invited a few years ago to Denver for an interview about giant pumpkins. He brought his.
"My gosh, on the way down there people honked and waved," said Ershabeck. "If one of these giant pumpkins is in the back of your pickup, you will be noticed, you'll be waved at. It brings smiles to people's faces."
And the kids? The elderly?
"The reaction is the same from the elderly as from the preschools," said Jay Richard of Worland, who hauls his hefty giants to nursing homes and pre-schools in Worland.
He lugged Tasha (1,238 pounds) to the Torrington contest. Tasha, which won the Wyoming Champion Giant Pumpkin Weigh-In and Pumpkin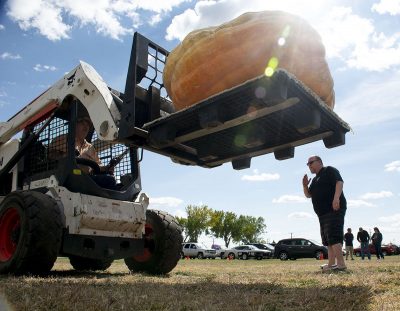 Drop the week before in Worland, strutted the Frontier Shelter runway on the Goshen County Fairgrounds via skid steer loader and pallet.
Richard left Emma, 1,225 pounds and the second-place Wyoming champion, back in Worland.
"Mine all have names," said Richard, wearing a very-orange Jay's Giants t-shirt. "Really. Every pumpkin gets a name. I have a young girl in town name them for me."
There was something engaging about the simplicity of the event, said Goshen County Master Gardener Linda Farrier. "The thrill of planting a simple seed resulting in a behemoth such as a giant pumpkin is awe-inspiring, but not to be outdone is the satisfaction of growing the prettiest pumpkins, the largest squash, or painting the most beautiful, awesome pumpkin!," she said.
"Just what we needed on a sunny fall weekend."
Andy Corbin of Cheyenne set the state record weight last year with his 1,491-pound entry. Pumpkin fun sprouted early in Corbin. A photograph in the Cody Enterprise shows a 10-year-old Andy growing big pumpkins.
He took time off for college, married, and took up the hobby again after his children were born. About 10 years ago he learned about the Atlantic giant seed variety and that the Laramie County record was 500 pounds.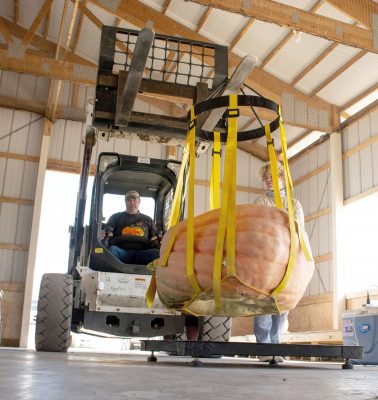 He set the record at 678 pounds the following year. Corbin met other growers and learned more about the genetics and how to better grow pumpkins. He set another state record at 1,268 two years later, "And I thought I could do better," he said.
Richard used seeds from Corbin's 1,491-pound winner to grow Tasha. Emma was grown from seed from a 1,045-pound pumpkin grown by Ron Hoffman of Riverton.
Friendly competition also eventually prodded Richard. He started growing pumpkins in 2003 and cut triangles for the eyes and the top off so he could take a photo of his 1-year-old daughter inside.
He's had to grow bigger pumpkins each year to take another age photo.
The hobby took a competitive turn when The Lungren Girls Farm in Washakie County started a pumpkin weigh-off a few years ago.
"That first year, I might have brought a 55-pound pumpkin and a couple years later Steve Tharp (Worland veterinarian) grew one that weighed 512 pounds. From then on, I set mine down next to it, and it's been game-on ever since," he said, and smiled.
Erschabeck and his wife decided to grow pumpkins in a weedy field near their place and eventually ran a small truck farm
"What's fun about it is the end result," said Erschabeck. "You go through your fields and see the pretty pumpkins and if you ever give some kid a pumpkin, man, they're in seventh heaven."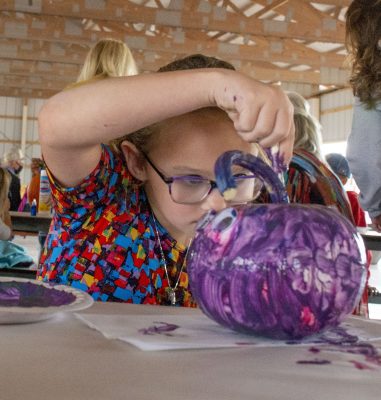 Dan Painter of Painters Produce in Torrington brought a pumpkin to the competition. He started growing them after attending a presentation by Richard sponsored by the Goshen County Extension Office.
"I mean, if you ever talk to the guy, he loves pumpkins and you can't help but get fired up," he said.
Painter grows his giant pumpkins in a 50 by 30-foot plot. "That thing starts getting big and it pops its head up and you can see it from the end of the garden," he said. "And you know,  driving by it every day just makes you feel good whenever you see it."
Some lunkers can gain 40 pounds a day. Giant pumpkins trace their weakling to behemoth jump to Canadian plant breeder Howard Dill, now deceased. He patented Atlantic giant pumpkin seeds in 1979.
"Everything about them wants to be big," said Richard. "The plants, the vines and the pumpkins. It's not a magic seed, it's not a super fertilizer, it's not milk. It's nothing like that. It comes down to a healthy soil and a quality seed, and they're called Atlantic Giants."
Space is also required.
"I say it takes the room of a two-car garage to grow one of the plants and that's because it needs to draw the nutrients and water from that," he said.
Mother Nature also needs to help with hot days and warm nights. Too hot, though, and photosynthesis slows and can stop.
Corbin gives Mother Nature a boost.
"It's really the technique that put me to the next level," he said. He takes into account that Wyoming weather and soil isn't like Wisconsin or Minnesota. He uses drip tape to saturate the soil and apply nutrients.
"I'll run seaweed and kelp and fish emulsions through the tape," he said. He also adjusts the soil pH to better fit the pumpkins.
"I can get that perfect environment and that's what really helps the roots because it's really the roots that feed it," he said.