It was April of my senior year of high school and I worked for my county fair. One early Saturday morning we were tagging in steers and a bunch of us seniors were talking about our plans for the following fall. I shared my plan to go to a junior college in Central California to try to increase my odds of getting into one of the impacted state schools up there. UW was tossed around the conversation a bit and someone asked me why I hadn't applied there, I remember laughing and saying, 'do really you see me living in the snow?' After a bit more conversation and a dare from one of my friends to check out UW, my interest was piqued. I ended up applying later that night and visiting campus a few weeks later. Coming onto campus for the first time and seeing the students, faculty, and beautiful landscape I knew that this was the place for me. It was at that time I decided to make the move.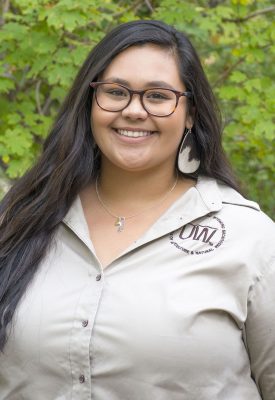 I began my freshman year as an animal science student on the pre-veterinary path. I had always loved caring for animals and I somehow correlated being my 4-H club's go to person for administering shots, as me wanting to be a veterinarian. I quickly realized that was not the path for me, and what I really enjoyed was talking to people about their roles as consumers and teaching them about where and how their food is made. This lead me to make another move, away from the pre-vet path and onto concentrating my degree in food animal production and communication.
During my time here, I have been able to participate in so many amazing opportunities. I have been able to network with industry leaders, watch procedures performed by trailblazing scientists, and be diversely involved in the UW community. One of the events that I was able to attend was the Ag Summit, held this past February. At this event, we discussed the outlook for agriculture over the next decade. Getting to not only interact with industry leaders, but for them to turn to my fellow ambassadors and I and ask for our input, was truly special. Sitting in class one morning I got an email that Dr. Tim Holt would be out at our livestock facility preforming his ground-breaking PAP tests. I was thrilled to be given the chance to go watch him thread a tiny catheter through bulls' veins and into their hearts. Dr. Holt took the time to get to know each of the students that came to watch that day. Finally, my opportunities have spanned beyond agriculture at UW, I am a tour guide in the admissions department and a peer mentor for the Bridge program. In being a tour guide I have been able to hone my communication skills and develop quite the knack for walking backwards. Through my work as a peer mentor in First Year Seminar courses, I have found that I have a passion for teaching and helping students excel at the collegiate level.
As I am finishing up my final semester as a UW cowboy, I am so proud to be graduating from such an amazing intuition. The opportunities I have had here are unparalleled by my peers at other colleges. The real difference is that UW has not only provided me with the amazing freedom to be able to move and grow through my degree, they have also given me the tools to be prepared as opportunities arise after graduation. As for my next move, I am not quite sure where it will take me, but I know that I am ready for whatever come next, thanks to the amazing support and connections I have formed here.