Summer squash, such as zucchini, yellow crookneck, yellow straightneck (saffron), and pattypan, are warm-season plants. They grow on large, bushy plants or on vines and are ready to harvest seven to eight weeks after planting. They are a versatile vegetable that make a great addition to many meals.
Planting
Plant summer squash after the danger of frost is gone. Squash do best when the soil and air temperature is above 60°F consistently. Squash tend to do well in the heat.
Seeds can be started inside and transplanted outside after 3 weeks.
There are two ways to plant squash:

Plant seeds in hills 4 feet apart with 2-3 seeds in each hill or
Plant in containers or garden beds with adequate space between seeds. Squash plants need a lot of space!

Summer squash do best in full sun, in soils with high nutrients, with plenty of water.
Rotate where squash is planted from year to year to avoid issues with diseases.
Harvesting
Harvest at about 7-8 weeks after planting.
Summer squash taste best when they are small, before the skin hardens and becomes seedy.
The skin and flesh of summer squash can be eaten.
Eat summer squash soon after harvesting.
Suggested Varieties– Black Zucchini, Early Golden Summer Crookneck, Early Prolific Straightneck, Jackpot Zucchini, Saffron, Sunny Delight
Happy gardening!
Information summarized from UW Extension publications by Katie Shockley, Writer/Editor, University of Wyoming Extension Communications & Technology.
---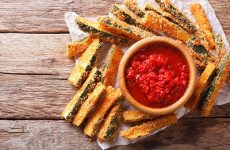 This quick recipe makes an excellent side dish or snack, and is a great way to use zucchini, especially when you have tons in your garden!
Click the title for the full recipe!
---
Additional Resources
Learn more about growing summer squash with these resources from the University of Wyoming Extension:
Next up: Peas + A Recipe [Coming August 28]
Previous issue: Windowsill Herb Gardens
If you know someone who might enjoy this newsletter, please share it with them! They can subscribe here.
Find us on Facebook, Pinterest, and the Cent$ible Nutrition Program website.
---
This newsletter is a collaboration of the following programs: