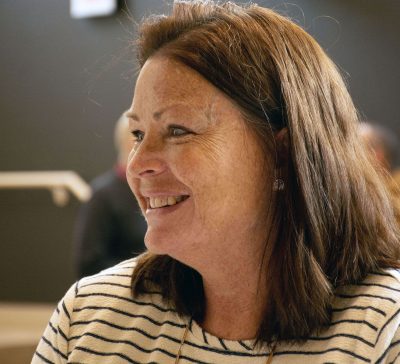 Cath Harris has a plan for what comes after her time as manager of the Agriculture Business Office in the College of Agriculture and Natural Resources.
Adventure, and better weather. Add her horse, too.
The 30-year UW employee's last day is today. She's ending her career where she wanted – in agriculture.
Harris was working in the School of Energy Resources when the ag position opened. During her off hours there,  she was a horse judging coach, a 4-H leader and was teaching youths how to ride.
"It just made sense for me to come to the college of agriculture," she said.
The move was a natural fit. She recalls ordering amott cells while in the School of Energy Resources. "I didn't know what an amott cell is and to this day I don't (device helps study processes in fractured reservoirs in the laboratory). Here, I'm ordering calves, cows,  all kinds of fun stuff, and I actually know what they are. I get excited. For hay orders, I'll take (the weight by the price) and say, 'Do you know how much per ton that is? That's a good deal! Or a really bad deal.'"
Harris gathered water data when she joined UW and the Water Resources Data System in 1989, then processed all the billing when she moved to work in Information Technology and her office was in Old Main. With the technology at that time, "I remember if you put all the data in correctly, it came out correctly. But if you put it in incorrectly, it came out incorrectly and you were in a world of hurt."
Harris then joined Bill Gern, Angela Faxon and others in the Office of Research and Economic Development for 11 years.
"They were awesome," Harris said. "I managed the startups for all the commitments the research office had. It was hard to leave there. They were an amazing group of people."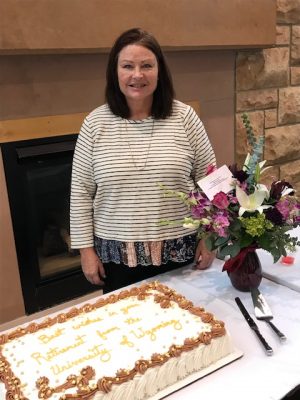 She decided to veer from her love for numbers and joined Phil Harris, vice president for administration. His was the budget office but due to vacancies was later combined to become the vice president of administration.
There were still numbers involved but she found herself writing letters and taking care of grievances, for example. After three years, her number affection hadn't subtracted. "Phil was retiring, and I recognized I really wanted to get back to my numbers," she said.
So Harris began work in the School of Energy Resources with Mark Northam and was there when the new Energy Innovation Center opened.
"But I was looking for more," she said. "I always knew my heart was in agriculture."
Which led her to apply for the ABO position. Twice. And was accepted twice.  She joined the college in 2015.
"The first time I turned it down," she said. "Mark really wanted me to stay. I felt so conflicted. I really wanted to go, and I applied again. Thank goodness Glen Whipple (associate dean in the college of agriculture and leading the hiring committee) understood why I did it, which was I felt the need to be here."
She wanted to organizationally and physically renovate the ABO into the 21st century. Her first steps were clearing her own office, moving out a screen that divided the space, and having a "garage sale" for all the extra items her second day.
"I'm not a clutter person," she said. "I really wanted to make sure people felt welcome. Always."
Her next emphasis was decluttering the ABO office. People were winding their way around file cabinets and desks placed wherever, and files were not sufficiently organized. The filing cabinets were replaced (and locations moved) and files appropriately organized. The 1950s-style metal desks were replaced (and locations moved).
"Once we were able to order new file cabinets and get some kind of organization, I felt I could make headway," she said. "We weren't going to go backward."
The office went digital with files, and the old files were archived and stored. The office also has a shadow system, which means any office personnel could step into another's position.
"Thankfully, I had great people who were willing to help and organize," Harris said.  "I think if you talk to any one of them, they feel like their job is much more manageable, especially since the chaos of the new financial system."
Her new adventure begins next Monday, looking at other opportunities.
"I wanted better weather, that's the primary thing," she said. "And I'm taking my horse with me."
She'll be leaving behind good friends.
"These are the best group of people," said Harris. "They made me feel so welcome, and I'm going to keep in touch with them. The whole group here is so cohesive. I'm going to miss them a lot."