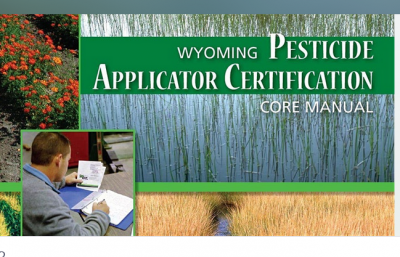 Commercial pesticide applicator recertification and the program for applicators seeking new licenses will begin Tuesday, Jan. 21, in Casper at the Ramkota Hotel.
Commercial pesticide applicator licenses are required by anyone who receives payment for pesticide application, according to the state of Wyoming.
The Wyoming Department of Agriculture keeps track of the continuing education units obtained by applicators. To keep a license valid, 24 CEUs are needed. Visit http://bit.ly/WyoCEU to check your CEUs.
"If you search on your license number and do not see anything, you need CEUs," said Jeff Edwards, pesticide applicator training coordinator for the University of Wyoming Extension.
Registration for the recertification program is at http://bit.ly/RecertificationPesticide. Attendees can receive up to 24 CEUs to maintain their license if they stay all three days.
Recertification check-in begins at noon Jan. 21, and the educational program begins at 1 p.m.
To register for the new applicator/test prep program, visit http://bit.ly/NewApplicator. Check-in begins at 7 a.m. Jan. 21 and the educational program begins at 8 a.m.
For more information contact Edwards at jedward4@uwyo.edu or 307-837-2956.