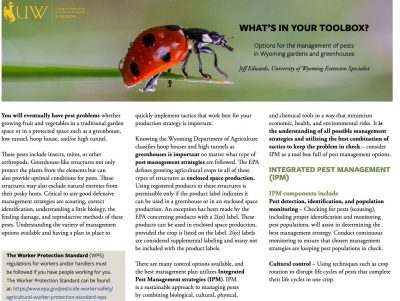 A University of Wyoming Extension educator's publication was selected national winner by the National Association of County Agricultural Agents.
What's in your toolbox by Jeff Edwards won over 107 other entries in national competition.  The 20-page, full-color bulletin recommends options for pest management in Wyoming gardens and greenhouses. Edwards, based at the James C. Hageman Sustainable Agriculture Research and Extension Center near Lingle, is UW Extension's pesticide training coordinator.
The publication describes integrated pest management, pest detection and population management monitoring using traps, and reading a pesticide label, among other descriptions. Included are six pages of pest identification photographs and several tables of common predators and prey, active ingredients in pesticides, mode of action, general targets, toxicity information and personal protective equipment recommendations.
What's in your toolbox, B-1322, is available for free viewing and download at http://bit.ly/bug-toolbox.