The 50-year-old biennial Range Beef Cow Symposium continues to provide producers with knowledge, skills and networking opportunities.
Mitchell, Neb., is hosting this year's sessions Nov. 18-20 at the Mitchell Event Center.
Symposiums focus on raising cattle in the western states and are geared toward commercial beef producers, said Steve Paisley, director of the James C. Hageman Sustainable Agriculture Research and Extension Center near Lingle and University of Wyoming Extension beef specialist.
This is the 26th symposium. The first was organized by beef specialists from Wyoming, Nebraska, South Dakota and Colorado in 1969 in Nebraska. Symposiums rotate every two years between the states. Wyoming hosted the 2017 symposium in Cheyenne.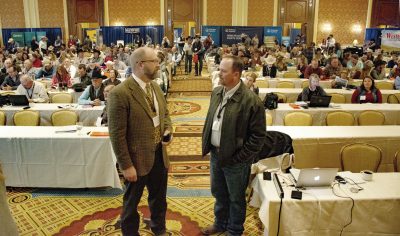 "The idea was to select topics and find speakers that benefit beef cattle producers," said Paisley, who played a central role in organizing the last symposium. "It's not commercially driven. It's managed and developed by beef specialists in the four cooperating land-grant universities."
Those universities include UW, South Dakota State, University of Nebraska and Colorado State.
Symposiums are not driven by industry funding, nor is it a scientific meeting, according to Paisley.
The program addresses genetic, nutrition and management, animal health topics and offers producers interactive, hands-on learning.
"What we've tried to change over the years is to make it something that we want you to come in person to attend," said Paisley. "We want to make it more interactive, more hands-on; we want to encourage people to attend."
There is a half-day beef quality assurance animal handling course Monday afternoon followed by a live cattle stockmanship demo.
"I think that's really unique where we are focusing on that aspect of it," said Paisley. "The next day there will be breakout sessions where you can get more opportunities to ask questions and participate a little more."
There are over 100 vendors attending this year's symposium with nightly bullpen sessions that allow for interaction and networking opportunities for producers, said Paisley.
Cheyenne's symposium had almost 900 attendees and more than 80 agribusiness vendors.
"It still seems to be a strong event," said Paisley. "There still seems to be a need for it, and that's something we want to continue to build on and provide that outlet and opportunity to ranchers and producers."
Registration and a tentative agenda are available at http://bit.ly/RangeBeef19. Attendees can either register and pay online or print a mail-in registration form. For more information, visit the website or contact Paisley at 307-837-2000.