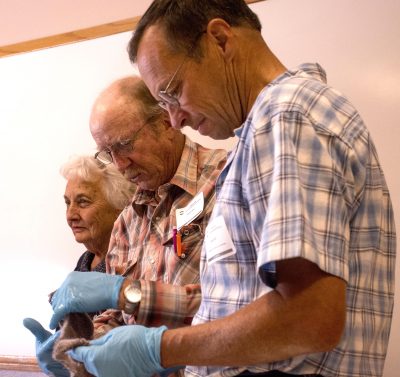 Aspiring wool producers would support each other and draw expertise from established producers and from outside sources in an effort being crafted by the Wyoming Wool Growers Association and University of Wyoming Extension.
Established producers would offer their knowledge to help their younger counterparts and help grow the industry, said extension educator Bridger Feuz. Feuz, based in Uinta County, and fellow educator Hudson Hill, in Lincoln County, agreed to facilitate the group.
The idea was discussed at the wool association's summer meeting in Laramie in August. Giving emerging or new-to-the-industry producers the opportunity to learn from each other, from established producers and via resources of UW Extension is a focus of association president Vance Broadbent, said Feuz.
There are many such groups, said Hill, "But Vance wanted one specifically for Wyoming wool growers. As big as Wyoming is and as spread out as it is, he thought it would be worthwhile to a lot of young people in the state who wanted to be involved."
Those in the sheep industry for a few years or even those considering buying sheep to get started could benefit, said Feuz.
The conference discussion gauged interest of members and what could be valuable to future producers. Members immediately started to talk about the information that could be provided.
"We have some very good resources in extension and with the university," said Hill.
Perhaps more valuable is just getting producers together in the same room, he said.
"They find out what works for other producers, what the college of hard knocks has taught other people," Hill said. "I see that as really valuable for this group. The members are talking about some educational opportunities, some tours and visiting people's places. The one batted around was just going out and looking at Wyoming facilities that are really superior and work well for people."
Group membership would continually change. Members would form a board and be self-governing, said Feuz.
"You will see new folks continually coming in and some of the more seasoned ones moving into perhaps other leadership roles in the Wyoming Wool Growers Association itself," said Feuz.
The Collegiate Wool Growers at UW was specifically invited.
The emerging producers would also address the aging demographic of the state's sheep producers and help maintain a critical mass to keep the industry vibrant.
"It's been my experience, especially with the wool growers, is they are really willing to help and share how they've been successful with other wool growers," said Feuz. "Critical mass is important. One of the goals is to continually grow the industry, and the only way they can grow it is to share some of the tips of success."
Hill noted helping a niche of people who want information to move forward is traditional extension work at its best.
"One of the reasons we started this is to help them understand all the resources available through extension and the college of agriculture, and even the university's Institute of Innovation and Entrepreneurship to be able to help them get started," said Feuz.
Those wanting more information or are interested in joining the group can contact Feuz at bmfeuz@uwyo.edu or Hill at hrhill@uwyo.edu.