The U.S. Department of Agriculture recently appointed a UW faculty member to the National Advisory Committee on Microbiological Criteria for Foods (NACMCF).
Bledar Bisha, associate professor and head of UW's department of animal science, is the first UW faculty member to serve on the committee in the past 25 years.
According to the USDA, the committee's purpose is to provide impartial scientific advice and recommendations to federal food safety agencies. Bisha is one of 21 new members selected to join the committee, which also includes nine returning members.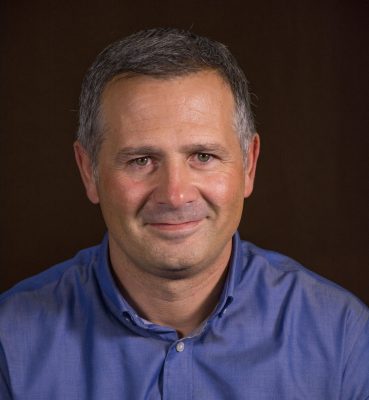 "I am thrilled that Dr. Bisha is one of only 30 experts from across the U.S. serving on the National Advisory Committee on Microbiological Criteria for Foods," says Barbara Rasco, dean of the College of Agriculture, Life Sciences and Natural Resources. "He will represent Wyoming and our college well."
NACMCF members are selected based on their expertise in microbiology, risk assessment, epidemiology, public health, food science, and other relevant disciplines.
The committee's charter dictates that members include one individual affiliated with a consumer group, five federal government employees representing the five federal agencies involved in NACMCF, and a variety of scientific experts representing academia, industry, and state governments.
Committee members report to the U.S. Secretary of Agriculture and the Secretary of Health and Human Services.
"NACMCF members bring a wealth of expertise and dedication to the critical mission of ensuring the safety of our nation's meat and poultry products," Agriculture Secretary Tom Vilsack commented in a recent news release from the USDA. "Their contributions will help us continue to strengthen our nation's food supply and protect the health and well-being of American consumers."
Bisha, who was named a Wyoming Excellence Chair in 2023, joined UW as a faculty member in 2013 and has served as department head since 2021. As a food safety microbiologist, he seeks to understand emerging foodborne pathogens, mitigate persistent pathogens, and develop rapid diagnostic methods for the detection of pathogens.
"I'm looking forward to working with colleagues across the country—I think that is one of the benefits of doing this type of work," he says. "You learn from others and interact with others. It's also a wonderful opportunity for me to represent the University of Wyoming and Wyoming as a state."
NACMCF members serve two-year terms, which are staggered to ensure a mix of new and reappointed members. Bisha's term officially begins on Tuesday, Nov. 14, at a virtual public meeting hosted by NACMCF.
To learn more about NACMCF, visit https://bit.ly/nacmcf-usda.