Biological age does not always correlate with chronological age, and it is unclear how physiology contributes to aging or protects against it.
A University of Wyoming faculty member is currently leading a research team that is studying the life cycle of bees to better understand this aging mystery that affects humans, animals and insects.
Michael Dillon, a professor in the UW Department of Zoology and Physiology, recently received a three-year, $398,251 National Science Foundation (NSF) grant for his project titled "Insults for Free: The Roles of Metamorphosis and Dormancy in Aging Dynamics." The grant, awarded through NSF's Division of Integrative Organismal Systems, began Aug. 1 and ends July 31, 2026.
"Sisters in a bee colony are genetically very similar but can differ 50-fold in age," says Dillon, the grant's principal investigator. "Workers live for only about two weeks, but queens live for over a year. This provides a unique opportunity to study the underlying causes of aging."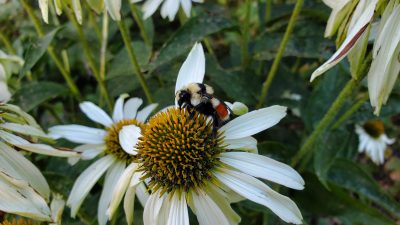 Under the grant, Dillon is collaborating with four colleagues at North Dakota State University (NDSU) and the U.S. Department of Agriculture's (USDA) Agricultural Research Service (ARS) in Fargo, N.D. ARS is the USDA's principal in-house research agency.
"We will be working with the common Eastern bumblebee here in Wyoming, and our colleagues in North Dakota will be working with alfalfa leafcutter bees," Dillon explains. "The different life histories of these species will allow us to search both for commonalities and differences in aging."
All animals—humans, mammals, birds, fish and insects—are very similar at the cellular level, where the processes underlying aging occur. Because of this, scientists can use model organisms to study these cellular processes, Dillon says. For example, fruit flies have long been an important model for aging studies.
"But it turns out that bees may be a better model, as their aging processes at the cellular level are more similar to humans," Dillon says.
According to the grant proposal, the study will examine aging dynamics across life stages and tissues and in response to stress. This research will determine how metamorphosis and diapause—a period of suspended development in an insect due to adverse environmental conditions—contribute to aging dynamics by examining cellular damage and organismal performance. This will be conducted by:
—Determining the relationship between senescence and cellular markers of aging. Senescence refers to the deterioration of function and is often associated with age.
"Our joints are stiffer, our metabolism declines, etc.," Dillon says. "However, humans and other animals can senesce at different rates. Some deteriorate more slowly than others so that, even when they have the same chronological age, they differ in biological age, which is the degree of senescence."
—Examining how disposable soma—the theory that aging is caused by an accumulation of random damage counteracted by repair—during metamorphosis influences aging by comparing cellular aging in tissues formed during metamorphosis to those carried over from the larval stage.
—Assessing whether overwintering dormancy is a slowing down of aging or is regenerative. The research will investigate these dynamics in solitary bees and bumblebees.
Dillon is a member of the Insect Cryobiology and Ecophysiology (ICE) Network. The network brings together experts in genomics, gene regulation, physiology and ecological modeling. Some members of the ICE group are involved in this grant, which is, in part, an outcome of previous grant funding received, Dillon says.
The NSF grant will support one UW graduate student and several undergraduate students (yet to be recruited) working in Wyoming. Additionally, students at NDSU will be involved in the grant work.
The grant will include a public outreach component. A K-12 learning module on bumblebee spring emergence will be developed as a hands-on lesson to engage Native American high school students in STEM, according to the grant proposal. Additionally, as part of an ongoing collaboration, informational exhibits and outreach events about pollinators will be developed with the Red River Zoo in Fargo, Science Kids and Wyoming PBS.
This project is jointly funded by NSF's Integrative Ecological Physiology Program and the Established Program to Stimulate Competitive Research (EPSCoR).
This story was originally published on UW News.