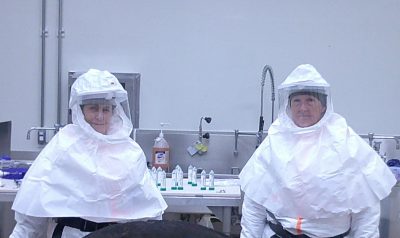 In early July, the Wyoming State Veterinary Laboratory's biosafety level 3 (BSL-3) necropsy facility was used to conduct a disease investigation for the first time.
The BSL-3 facility, designed for diagnosing serious animal infections that can be transmitted to humans, was used extensively during the pandemic to conduct COVID-19 testing. However, its intended function is animal disease diagnosis.
"The unit was designed to necropsy animals suspected of having diseases with high zoonotic potential, like brucellosis, anthrax, plague, or tularemia," says Kerry Sondgeroth, a veterinary bacteriologist and associate professor at the Wyoming State Vet Lab. "There are very few veterinary diagnostic laboratories in the U.S. that have this type of facility, and we are fortunate to be able to utilize this facility going forward."
In addition to the large animal necropsy facility, the BSL-3 certified space includes three laboratory spaces used for research.
To learn more about the Wyoming State Vet Lab, visit www.uwyo.edu/wyovet or call (307) 766-9925.