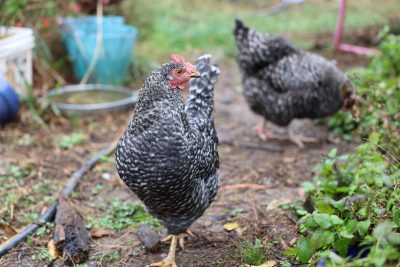 In response to growing interest in raising backyard chickens, the University of Wyoming Extension recently released a free online guide outlining best practices for chicken care and management.
The 10-page publication, titled "Raising Backyard Chickens," provides an overview of breed selection, housing, nutrition, extermination of lice and mites, waste management, and more.
The guide is designed to be accessible for beginners and specifically caters to poultry keepers living in a residential setting.
In addition to addressing management considerations, co-authors Vicki Hayman, Hudson Hill, and Ellie Riske offer suggestions for avoiding conflict with neighbors who may or may not be accustomed to backyard flocks.
"For people who have never had chickens or grew up with chickens but are now living in town, this resource offers basic information to help them to get off to the right start," says Hayman, a UW Extension educator based in Weston County.
Visit https://bit.ly/wyo-chickens for a free downloadable copy of the guide. For Newcastle residents, hard copies of the guide are available at the Newcastle City Hall.
Contact a local extension office with questions about chicken care and management. Always check local ordinances before purchasing and housing chickens in a residential area.