A new twist on a traditional 4-H project area has inspired culinary adventures in Wyoming kitchens across the state.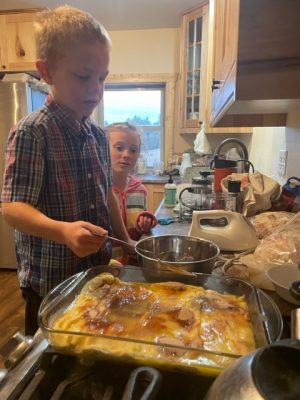 Designed to help young chefs hone their cooking skills at home, the Food, Fun & 4-H program provides monthly recipes, cooking utensils, and informational materials to Wyoming 4-H members.
Launched in November 2022 with funding from the Ellbogen Foundation, the program is coordinated by University of Wyoming Extension educators Kellie Chichester of Niobrara County, Joddee Jacobsen of Natrona County, Erin Persche of Weston County, and Mary Louise Wood of Park County.
Food, Fun & 4-H is open to all Wyoming 4-H members at no cost to participants aside from groceries. The program runs through May 2023 and new participants are welcome to join at any time.
"It's self-paced and meant to get our young people in the kitchen preparing their own home-cooked meals, trying new recipes from around the world, honing their communication skills and most importantly, having fun cooking with family," Jacobsen explains.
The program has been a big hit, she says, with 70 to 80 families consistently participating each month.
Participants prepare at least two of the dishes in each monthly recipe packet, then submit a short post-lesson report and photos of their cooking adventures. Fulfillment of these requirements qualifies them to receive the next month's utensil kit.
Recipe packets include a variety of dishes, both savory and sweet, as well as a document with tips for parents and other sous chefs.
Wyoming Food, Fun & 4-H is modeled on a program developed by Oklahoma State Extension and adapted by UW Extension educators. "Foods and Nutrition may be a traditional 4-H project, but this experience is designed to be anything but traditional," says Jacobsen.
To join the Food, Fun & 4-H program, contact Kellie Chichester at kelliec@uwyo.edu or (307) 334-3534.