Bledar Bisha, a renowned food microbiologist and associate professor of animal science in the University of Wyoming College of Agriculture, Life Sciences and Natural Resources, was recently named a Wyoming Excellence Chair.
The position, funded by the Excellence in Higher Education Endowment, recognizes faculty for exceptional contributions to teaching and research. State legislation states that chairs must expand university instruction and research in disciplines related to economic and social challenges facing Wyoming.
"Dr. Bisha is a national leader in food and environmental microbiology," comments Dean Barbara Rasco. "We are proud to have him on our faculty."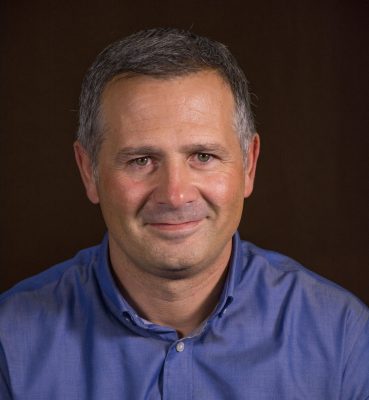 Bisha joined the university in 2013 and has served as head of the UW Department of Animal Science since 2021. Early in his career, he became interested in infectious disease control, especially as it relates to understanding and mitigating foodborne illnesses.
"Food safety is an issue that concerns all—producers, consumers and society as a whole," he says. Foodborne illnesses can lead to pain, hospitalization and death as well as financial burdens due to medical expenses, loss of productivity, litigation, and mortality.
While intrinsically preventable, these diseases continue to pose a challenge for researchers. "What we're trying to do my lab is to understand how foodborne pathogens emerge in the environment and spread to animals, the food supply, and people," Bisha explains.
These findings are used to devise strategies for detection, control, and prevention of foodborne illnesses from farm to fork.
In Bisha's lab, that includes developing rapid diagnostic methods that provide faster, more accurate results in the detection of foodborne pathogens. "His work has improved our ability to keep contaminated foods off the market," notes Dean Rasco.
The approach is two-pronged: one objective is to develop inexpensive portable devices for use in the field and the second is to develop highly sensitive, specialized laboratory techniques for analyzing pathogens.
In response to the COVID-19 pandemic, Bisha began conducting wastewater-based epidemiology research as well; the goal is to better understand the virus's spread at the population level. He also investigates the environmental aspects of antimicrobial resistance.
Bisha brings exemplary dedication to the classroom as well as the lab. "I think of teaching as a two-way street," he shares. "I really enjoy it because I think it's a learning opportunity for both the students and myself, shaping our perspectives of the profession and providing the basis for asking deeper research questions."
To learn more about current Wyoming Excellence chairs, visit https://bit.ly/wy-excellence-chair.