On November 16, staff from the University of Wyoming Powell Research and Extension Center (PREC) delivered the first of several dry bean donations to American Legion Post 26. Volunteers then re-packaged the beans into 2-cup portions that were included in monthly commodities packages distributed to community members facing food insecurity.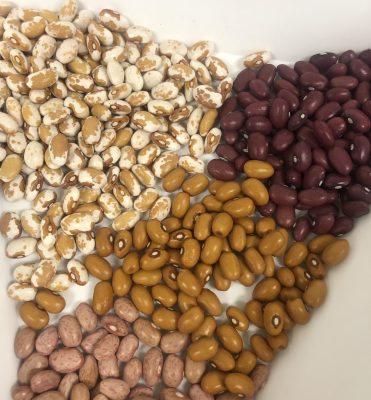 Research trials conducted at PREC include breeding varieties of dry beans with the intention of developing new lines with desirable qualities like higher drought tolerance, reduced input requirements, and upright stature. Discarded varieties, while not destined for further testing, are still perfectly good to eat, explains PREC Director Jim Heitholt.
"We have had numerous donations from Powell R&E Center throughout the years. They have always been a great source for helping us to fill in when we have been short supplied," says Russell Stafford, commander of American Legion Post 26.
Stafford and fellow volunteers coordinate monthly commodities pickups in collaboration with Food Bank of Wyoming, based in Casper.
Commodities packages typically include a protein, carbohydrates, vegetables and desserts when available, Stafford explains. Beans are a desirable item as they can be stored for longer periods of time and can be split into multiple meals.
The 52 pounds of Great Northern beans and 9 pounds of colorful mixed beans donated in November translated to roughly 150–160 individual bags distributed to Powell families, Stafford reports. Included with the November packages were recipes compiled by PREC staff member Wendy Files.
PREC's next delivery is scheduled for December 14. Heitholt and Stafford plan to coordinate a third donation in January.
"Russ, he's the real hero in all this—they [the American Legion volunteers] are the ones getting all this ready for the needy," Heitholt notes. We are just doing our job and have a little byproduct that we can give them."
However, the director admits that he often sorts dry beans by hand in the evenings when he has spare time, ensuring that only the highest quality beans are donated.
"The Center has really done a fantastic job in assisting us with this delivery, and they have always done so every time that a donation has happened," Stafford comments.
He urges Wyomingites to remember that food insecurity happens throughout the year, not only during the holidays.
"There is no judgment and we all know that assistance is needed to everyone at some point in their lives," he says. "I volunteer because it is a way for me to continue to serve my community and it is needed."
For those interested in volunteering, please contact American Legion Post 26 at americanlegionposg26@gmail.com or (307) 754-3411.