The University of Wyoming Extension recently released Food Preservation with Reduced or No Salt or Sugar, a new online publication featuring 40 canning and preserving recipes that can be made with little to no sugar and salt.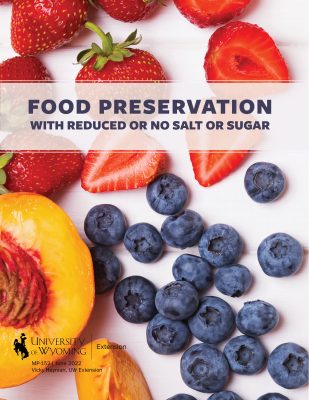 Recipes range from reduced sodium dill pickles to low sugar fruit spreads and peach, blackberry and strawberry jellies made with sugar substitutes.
Author Vicki Hayman, the nutrition and food safety coordinator for UW Extension, developed the guide in response to a need. "I thought of what people were asking for," she says. "I get a lot of questions from people who have diabetes or are watching their salt or sugar intake."
Recipes were compiled from reputable sources such as the Ball Blue Book Guide to Preserving, Ball Canning Back to Basics and the USDA's Complete Guide to Home Canning.
Food safety is crucial when canning or preserving, Hayman cautions. Recipes should be followed exactly for best—and safest—results. Safely canning and preserving food using no to little sugar and salt calls requires research-based, tested alternatives, not willy-nilly substitutions.
The new publication strives to fill that gap, offering safe (and tasty) recipes that fit certain dietary preferences and restrictions. "It's intended to be a resource for people who are looking for something specific," explains Hayman.
The new publication also includes tips on canning basics, such as how to properly prepare lids, check seals and remove air bubbles.
Recipes include altitude adjustments—an important consideration for all Wyoming cooks.
Visit bit.ly/low-sugar-preservation for a free downloadable copy of the guide. More information on food preservation and canning can be found at bit.ly/NFS-Food-Preservation.