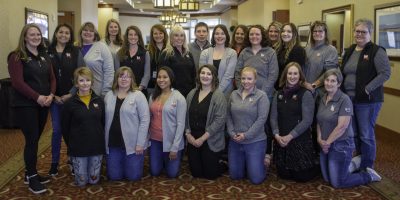 This spring, the Cent$ible Nutrition Program (CNP) and University of Wyoming Extension recognized educators for exceptional outreach efforts in 2021 focused on nutrition, physical activity and how to eat better for less.
"I would like to congratulate all of our award recipients," says CNP Director Mindy Meuli. "The Cent$ible Nutrition Program has a terrific team of educators and these award winners exemplify our commitment to providing excellent programming."
Awards were presented at the UW Extension's 2022 spring conference in Laramie, Wyoming.
Spoonhunter receives CNP's highest honor
Billie Spoonhunter, a CNP educator serving the Wind River Indian Reservation, received the Linda Melcher Award for her exemplary programming and advocacy efforts. The award honors educators who embody the essence of the Cent$ible Nutrition Program, says Meuli. Spoonhunter "went above and beyond to make sure people in her community received food boxes. She is passionate about her community and the people she serves." In addition to coordinating food box distribution, Spoonhunter took on projects involving gardening, commodity foods and painting stencils at local playgrounds.
Newer educator recognized for innovation in online learning
Albany County CNP educator Jess Dooley earned the Newer Educator of the Year Award, inspiring the team with her "can do" attitude. She hit the ground running during the height of the pandemic, embracing technology and delivering multiple online classes, says Meuli. Dooley also expanded marketing efforts, leading 83 indirect activities, and actively engaged with participants on social media and online Youth Curricula committees.
Big Horn County excels in youth education
The Youth Educator of the Year, Kristy Michaels of Big Horn County, graduated 197 youth. Students in her program showed a 37 percent increase in vegetable intake, 31 percent increase in fruit intake and 40 percent increase in physical activity duration. She implemented Policy, Systems and Environmental Change (PSE) programs in three schools, reaching 603 youth.
Sweetwater County leads the way in adult education
Sweetwater County CNP educator Wendy Nielson earned the Adult Educator of the Year award. In 2021, she enrolled 119 adult participants; they reported an increase in nutrition and diet quality of more than 96 percent. They also saved more than $60 per month on groceries and increased their physical activity by 44 percent. In addition, Nielson implemented a gardening program at a low-income housing site, which residents are now sustaining independently.
Celebrating exceptional leadership in the "Grow a Little Extra" initiative
The Collective Impact Award was presented to CNP educator Lori Dickinson of Sheridan County and UW Extension educator Caitlyn Youngquist of Washakie County for their leadership in the statewide "Grow a Little Extra" initiative. A collaboration between the Wyoming Hunger Initiative, CNP and UW Extension, the program facilitated the donation of locally grown produce to Wyoming residents with limited resources, says Meuli. "The project brought together people and gardeners across the state."