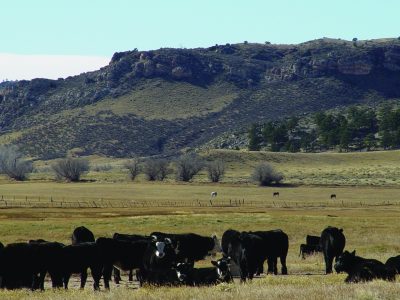 The Y Cross Ranch Endowment is providing significant support to University of Wyoming Y Cross Scholars in the 2021-22 academic year while also helping to ensure the future of agriculture and ranching in Wyoming and beyond.
"The Y Cross Ranch Endowment is not only the largest endowment in the College of Agriculture and Natural Resources, but also one of the largest for the University of Wyoming," says Barbara Rasco, dean of UW's College of Agriculture and Natural Resources. "In 2021-22, it has funded 23 undergraduate and 11 graduate students. Its impact on research important to meeting needs of the ranching community is transformational."
The Y Cross Ranch Endowment supports undergraduate scholarships to attract the best and brightest to disciplines within the College of Agriculture and Natural Resources; internships in animal science, meat science, and farm and ranch management; and stipends for graduate students conducting applied research on real-world issues of ranching, farming and natural resource management.
Specifically, the fund supports hands-on, experience-based learning opportunities outside the classroom for undergraduates and graduate students. These may include practical internships in livestock management, beef production, meat science, and laboratory and field research on issues important to Wyoming agriculture.
Current graduate student research includes the use of blockchain in the sheep industry and to incentivize conservation; weed science in a rangeland setting; the use of cover crops to improve soil and forage quality; sustainability in the beef industry; assisting land managers with rangeland management and restoration; food fraud; the livestock supply chain; new invasive species; nonchemical methods of controlling pests; parasites in commercial cattle operations; brisket disease and congestive heart failure in cattle; statistical and spatial analysis of diseases in ecosystems; metabolites in cattle; forage productivity and carbon capture; reproductive physiology; and prescribed burns.
The 50,000-acre Y Cross Ranch is located at Horse Creek in Laramie County. This working ranch was donated in 1997 to UW and Colorado State University by the Patten-Davis Foundation (formerly the Courtenay C. Davis Foundation). The purpose of the gift was to help address problems and questions inherent to Western cattle ranching operations and, in doing so, to help sustain family ranching in the West.
Since it was established in 2016, the Y Cross Ranch Endowment has had a remarkable impact on the College of Agriculture and Natural Resources. In addition to providing scholarships to undergraduate and graduate students, it has funded internships at the National Western Stock Show; supported hands-on activities such as the college meat judging team; provided a solid foundation for a new undergraduate internship initiative; established the Cowboy Branded Meats Program; and helped restart the meat judging program.
Y Cross undergraduate and graduate scholarship and stipend recipients for the 2021-22 academic year, listed by hometown, are:
Arvada, Colo. — Clara Ritchie.
Bhaktapur, Nepal — Chandan Shilpakar.
Big Timber, Mont. — Dylan Laverell.
Blacksburg, Va. — Olivia Bowers.
Buffalo — Hannah MacCarrie Fraley.
Casper — Jordan Vanetti.
Centennial, Colo. — Miles Deantoni.
Cheyenne — Ella Bishop-Heil, Garrett Hartigan and Kayla Kersh.
Cleveland, Tenn. — Lauren McKinney.
Colorado Springs, Colo. — Joseph Duncan.
Denver, Colo. — Hana Rae Fancher.
Downey, Calif. — Kathleen Bracken.
Dubois — Robert Finley.
Fort Collins, Colo. — Victoria Crowe and Courtney Newman.
Gaithersburg, Md. — Nathan Wade.
Galeton, Colo. — Hallie Carroll.
Ione, Calif. — Marcella Hernandez.
Julesburg, Colo. — McKenna Carnahan.
Laramie — Julia Bulick.
Naples, Fla. — Bevin McCormick.
Norwalk, Ohio — Lindsay Rinner.
Oologah, Okla. — Jodie Crose.
Reno, Nev. — Erin Schwalbe.
Salem, Ala. — Grace Gullatt.
Sidney, Neb. — Brodie Sutton.
Spring Branch, Texas — Libby McGrath.
Thermopolis — Aron Markow.
Visalia, Calif. — Gunnar Malstrom.
Westford, Mass. — Michaela Forty.