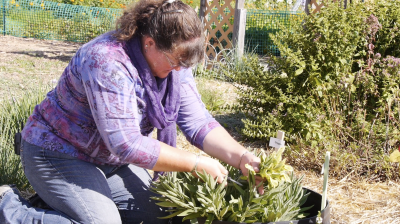 Edible flowers and herbs will have their time to shine during a University of Wyoming Extension workshop Saturday, April 2, in Casper.
"Put Some Sparkle in Your Spring" will teach attendees how to grow and use edible flowers and herbs. The workshop will take place from 8:30 a.m.-12:30 p.m. at the Agricultural Resource and Learning Center, located at 2011 Fairgrounds Road. Registration is $20. To register, call Rose Jones, UW Extension administrative assistant in Natrona County, at (307) 235-9400.
"I have been wanting to get the right people together to help me present a program that connects food and science as well as connects food to the garden," says Donna Hoffman, UW Extension horticulture educator in Natrona County.
Two UW faculty members and a Casper nutrition expert will present three workshop sessions.
The workshop schedule is as follows:
8:30 a.m.: Welcome by Hoffman.
8:45 a.m.: "Growing Edible Flowers and Herbs in Containers," Elizabeth Moore, an assistant lecturer in the UW Department of Plant Sciences.
10:00 a.m.: "Using Edible Flowers and Herbs in Agua Frescas and Tea Concentrates," Grace Shearrer, an assistant professor in the UW Department of Family and Consumer Sciences.
11:15 a.m.: "Cooking With Edible Flowers and Herbs," Judy Barbe, a registered dietician nutritionist in Casper.
"I have been growing herbs by seed in our greenhouse for the past few weeks for the program, and it has given me a boost in enthusiasm for all things spring," Hoffman says. "I think putting some sparkle in our spring will be a great start to a new growing season and to some healthier foods that we can all enhance right from our own gardens."
For more information, email Hoffman at dhoffman@natronacounty-wy.gov.