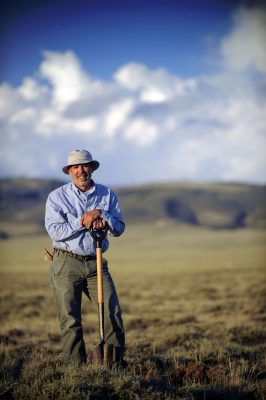 A professor whose teaching and research focus on reclamation issues has been noted as having state and international significance has received a lifetime teaching honor from the College of Agriculture and Natural Resources at the University of Wyoming.
Pete Stahl received the Andrew Vanvig Lifetime Distinguished Faculty Achievement Award this month. The award honors a senior faculty member with at least 15 years of service in the college.
Nominator and retired professor and former department head Steve Williams said universities usually have some faculty members who emphasize their own achievements and seek recognition.
"There are others who seem somewhat under the radar but performing in magnificent fashion, generating highly applicable and useful products and not seeking recognition," said Williams. "Peter Stahl is one who is of this second type."
Stahl retired this year as director of the Wyoming Reclamation and Restoration Center (WRRC) in the college. He joined the university as a temporary assistant professor of soil ecology in 1995 and became full professor in 2009 in the Department of Ecosystem Science and Management.
Stahl received his bachelor's degree in plant pathology from Oklahoma State University and his master's and Ph.D. in botany from UW. He conducted postdoctoral work at the National Science Foundation Center for Microbial Ecology and the Long Term Ecology Research Site in Agricultural Ecology at Michigan State University, and at the National Soil Tilth Laboratory in Ames, Iowa.
Jay Norton, a professor of soil sciences and UW Extension soils specialist, first met Stahl at the tilth laboratory while working on his master's degree.
Stahl was a member of a group of scientists forging the foundations of what would later become the current soil health movement by developing methods for defining and quantifying soil quality, said Norton.
His later use of microbial phosolipid fatty acid analysis to identify and quantify soil organism functional groups, "Had a massive influence on understanding how drastic soil disturbance (such as strip mining) impacts soil ecology and how soil organisms support ecosystem recovery," said Norton.
He encountered Stahl again when working on his Ph.D. on soils at the Zuni Indian Reservation in New Mexico. Williams was a co-principal investigator on the grant and had assigned his post-doctoral student – Stahl – to implement much of the sampling.
"Pete was a joy to work with on the Zuni Reservation," said Norton. "His love of field work and zest for different cultural experiences and storytelling caused him to really hit it off with our Zuni farmer collaborators in ways that enriched the experience for all of us."
Stahl later encouraged Norton to apply for the fertility specialist position at UW.
Stahl's work the last 20 years has covered restoration and reclamation from drastically disturbed mined lands, burned sites soils invaded by unwanted plants, oil and gas pad restoration as well as work in crop agriculture, said Williams.
The last 10 years Stahl has also engaged in research in Nepal, especially with forest restoration.
College of Agriculture Natural Resources dean Barb Rasco commended Stahl for his long-time work in reclamation in the state, region and world.
"Pete's work has had international impact through his leadership in programs across central and eastern Europe, Mongolia and Nepal," she said. "His engagement with Nepalese scholars across campus and at Tribhuvan University in Katmandu has done much to improve the environment and quality of life in that mountainous region of the world."
Stahl was named WRRC director in 2009. Housed in the Department of Ecosystem Science and Management, the center's focus is on energy and natural resource development activities.
Norton noted Stahl's efforts to ensure science-based restoration had a place at the table as the energy industry and the UW School of Energy Resources negotiated with state and federal agencies on how to protect, restore and mitigate valuable sagebrush-steppe grasslands for threatened sage-grouse and many other endemic wildlife species.
Stahl's work, and the work of the WRRC, has been critical to the sustainability of much of Wyoming's energy industry, but also the preservation and sustainability of wildlife, said Frank Galey, former agriculture college dean, now vice president and provost at Utah State University.
He also noted Stahl's engaging undergraduate and graduate students, stretching them and helping them to understand and become leaders in the field themselves.
Caley Gasch, an assistant professor of soil health research at North Dakota State University, is one of those former students.
Stahl clearly has an enthusiasm for the biological world below ground but recognizes the importance of framing that knowledge in a way that is relevant to other disciplines, land management and agriculture, she said.
"He instilled this perspective in me, as well as many other mentees, who now work in the balance of pursing basic, novel scientific questions while placing that work into a larger applied context," said Gasch.
Norton noted Stahl's influence on his peers.
"His generosity about providing opportunities for younger faculty members through his connections with funders of reclamation and restoration work, and enthusiastically sharing knowledge about basic microbial ecology, laboratory methods, teaching success and even the best ski slopes and fishing holes, has enhanced my success at UW and my love for Wyoming, as well as that of many of my colleagues," said Norton.