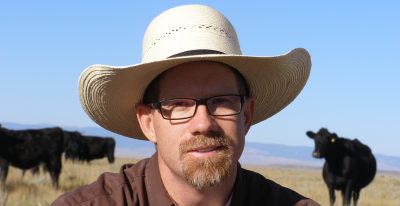 The University of Wyoming is among an international coalition that announced a $19 million research project aimed at understanding how a farmer's or a rancher's grazing management decisions affect soil health on pasture and rangeland.
The research will help determine how soil health can positively impact a producer's land and well-being. The Noble Research Institute, University of Wyoming, Michigan State University and Colorado State University are leaders of the project.
Entitled "Metrics, Management, and Monitoring: An Investigation of Pasture and Rangeland Soil Health and its Drivers," the project was announced today (Dec. 7) at the National Grazing Lands Coalition triennial meeting in Myrtle Beach, S.C.
UW Extension range specialist Derek Scasta said the funding will help accomplish several important considerations for Wyoming ranch management.
The project will bring UW's McGuire Ranch online as a top-tier research resource by supporting the development of needed fencing and water to do applied grazing research, he said.
"It will allow for the dissemination of resources around the state with producers to create a pipeline of soil, forage and livestock-focused information," said Scasta. "In addition to the Wyoming-specific work, this funding will also position UW among a group of research collaborators around the world to enhance our understanding of sustainable ranch practices."
The Foundation for Food & Agriculture Research awarded Noble Research Institute a $9.5 million grant to lead this work. Noble Research Institute is providing $7.5 million to this project with additional financial contributions by Greenacres Foundation, The Jones Family Foundation and ButcherBox.
For decades, farmers and ranchers who have implemented soil health principles have improved the overall health of their land and have experienced more profitable operations, however, these observations have been – to this point – largely anecdotal, according to the Noble Research Institute.
This research will quantify these observations and examine how management decisions on grazing lands are connected to the overall health of the ecosystem, including the social and economic well-being of the farmer, rancher and land manager.
The project will provide farmers and ranchers tools that simply and accurately measure outcomes of soil health in grazing land environments to guide management decisions and quantify the impact of intentional management, according to The Noble Research Institute.  Measuring soil health requires techniques that are often site-specific and costly for ranchers.
The project is exploring why some producers adopt soil health building principles, such as adaptive grazing management, while others do not. It is also examining social and economic sustainability (producer well-being), which have rarely been studied in agriculture or, in particular, livestock agriculture.
The project brings together researchers from 11 nonprofit organizations, for-profit businesses, private research institutes and public universities in the United States and the United Kingdom. Collaborators include Oregon State University, the National Grazing Lands Coalition, USDA-ARS (Maryland, Colorado and Wyoming), Savory Institute, Snaplands LLC, The Nature Conservancy and  the UK's Quanterra Systems.