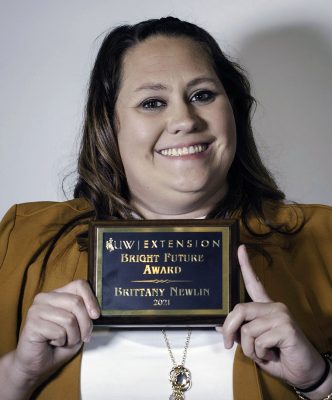 A four-year member of the Laramie County University of Wyoming Extension office has received the organization's Bright Future Award honoring staff members with less than five years' experience.
Office associate Brittany Newlin was recognized during UW Extension's September training for administrative assistants in Laramie.
"When Brittany is presented with a problem, she doesn't just find the solution, she implements it," wrote Laramie County extension educator Juliet Daniels. "She is usually the first to brainstorm ideas of how things can be improved and to volunteer to make them happen."
In addition to assisting the efforts of all the county's educators, Newlin also supports the Laramie County 4-H program, keeping track of and communicating with more than 600 4-H'ers and engaging in 4-H events. Daniels said Newlin is responsible for the logistics of the events and also markets the office's various educational programs.