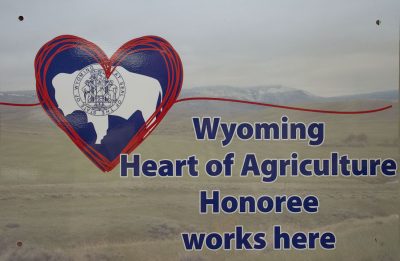 Seventeen women agricultural producers will receive Heart of Agriculture awards recognizing outstanding contributions to Wyoming agriculture and will be recognized at the Wyoming State Fair and Rodeo in Douglas.
Nominations were sought from women agricultural producers and agricultural organizations in each county to honor those for active involvement in the industry and engagement in bettering their communities, said Scott Cotton, University of Wyoming Extension educator in Natrona County.
This is the third year of the program. Recipients will be recognized at a ceremony noon-3 p.m. Friday, Aug. 20, at the Wyoming Pioneer Center during the state fair.
Cotton announced the following recipients, listed by county:
Albany — Janet Talbot
Campbell — Bobbi Geis
Carbon — Vickie Herring
Converse — Laurie Boner
Fremont/Wind River Indian Reservation — Janet Givens
Goshen — Jenny Conrad
Hot Springs — Carol Dockery
Johnson — Colette Camino Fenster
Laramie — Bobbi Frank
Natrona — Mary Allemand Owens
Niobrara — Carmen Shane
Park — Deanna Siggins
Sheridan — Terri Kane
Sublette — Amanda McGinnis
Teton — Kate Mead
Uinta — Karen Henry
Weston — Dana Tysdal
For more information, call Cotton at 307-235-9400 or email secotton@natronacounty-wy.gov.