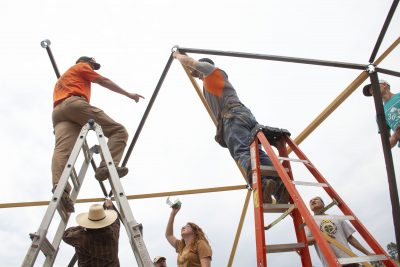 Combine a bunch of triangles, and you'll mix youths and adults and produce something good for the body – and, just maybe, the soul.
Those attending the Crook County Fair in Sundance this week will probably notice something that sprouted earlier this month on the fairgrounds – a 22-foot-diameter geodesic dome greenhouse.
Volunteers leveled the gravel base and connected 10 wooden foundation sides and erected the 2-by-4 spider net of triangles the afternoon of Tuesday, July 13. Plastic sheathing – a woven polyethylene product — was slid over the dome and secured with biocomposite lath stitched with screws the next morning. The entire build took about eight hours.
The mix included 4-H'ers and FFA members, Crook County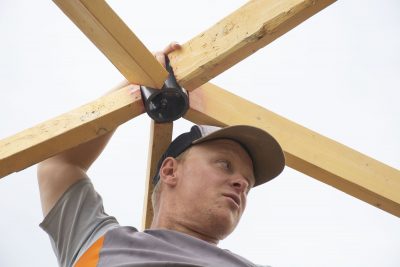 University of Wyoming Extension personnel, members of Grow Your Own from the Wind River Indian Reservation, extension state small acre/horticulture specialist Jeff Edwards, and Coleman Griffith, who administers grant funding for the domes from the Wyoming Department of Agriculture (WDA).
The Sundance dome is the 10th Griffith has managed. He said directions for many of the dome kits for purchase were indecipherable, so Edwards, Ted Craig with the WDA, and Griffith came up with their own kit and their version of assembly instructions
"Most of the feedback we get is no one has any idea what you're trying to do when you give instructions on paper," Griffith said. "But once you've actually done it and seen it, the next one makes sense."
Edwards described an on-site build.
"You have people who have never met before, but you're building something in common," he said. "But only a couple of us know what the end structure will look like. It's kind of like the building the first atomic bomb  (work was highly compartmentalized): Here's a part, do this, and then you will get to see it at the end."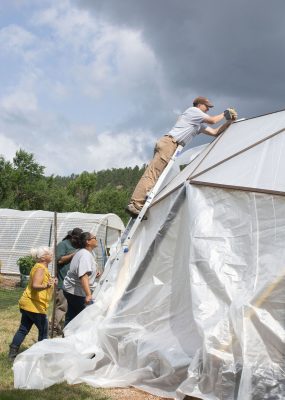 The Sundance dome is called a 2V structure, which means it has uses two triangles fitted together throughout the dome. Edwards completes all prep work, including cutting the 2-by-4 supports that have two different angles in a shop and the laths that securely attach the plastic to the dome. The 2-by-4s are connected by thick PVC couplings pre-cut and drilled for the lag bolts in the supports.  He also pre-builds the base and the door.
"Every one of these builds is a train-the-trainer project," Griffith said. "That being said, there are two kinds of people who show up to volunteer. Some are really into the idea of learning how to do it. And some are just there to help out."
Casper's Food for Thought took over UW Extension's high-tunnel building efforts, and Crook County 4-H educator Sara Fleenor secured funding from that organization for the dome. That funding, in turn, is through WDA and part of the USDA funding from the specialty crop block grant.
The dome complements what Fleenor calls the Learning Lab at the fairgrounds, where Sundance elementary students learn to grow food and then harvest and prepare meals. The dome sits beside a small hoop house built by Edwards and other workshop participants in 2011, called the pizza garden. Students will use the tomatoes, herbs and other vegetables growing there to make pizza this fall.
"I think even in a rural community like Sundance, the kids still don't necessarily know where their food comes from," Fleenor said. "And I think that is something we are losing — that (for example) if you have cream, you can make butter. If you've got a 20-foot space, you can grow a sustainable garden. That's really important for anybody."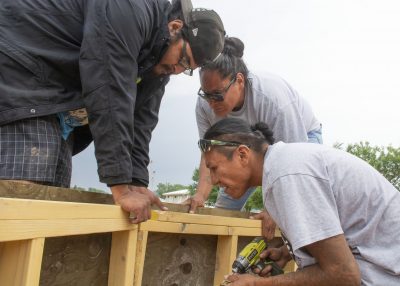 Fleenor, a nine-year 4-H educator, said there are no set plans yet for the dome, but it will likely evolve into a community-wide project.
The Grow Your Own  project has  grant money to build six domes on the Wind River Indian Reservation. Darrah Perez-Good Voice Elk said the first was half-completed – they needed to attach the plastic and were at Sundance to learn how.
Byron Good-Voice Elk had pre-cut the frame and supports in the Farmer Incubator Program at Central Wyoming College. Four domes will be built on the reservation, and two are for schools. A group from Longmont, Colo., is teaming with Grow Your Own to help build the domes.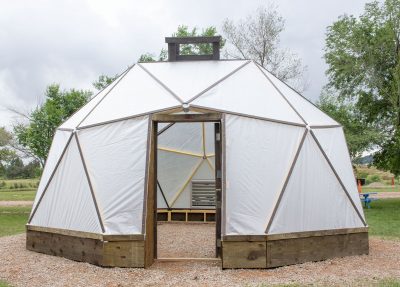 Lehi Aoah from the WWIR joined the group for the build.
"The domes are important because what we see is that all of this is getting people back in touch with Mother Earth," Darrah Perez-Good Voice Elk said. "It's awakening our ancestral memory, which is healing our trauma."
Trauma, she said, because of historical events, but also current situations.
There are health disparities, and, "A lot of people live in poverty, and a lot of people don't have food and they worry about what and how they are going to eat," she said. "If we can start giving people something to feel good about doing something, that right there is what provides the human race the healing."
Those who tried growing vegetables from seed had difficulty, she said. Next year, they are going to grow their own potted plants, starting with corn, beans and squash.
Grow Your Own has funds from Wyoming first lady Jennie Gordon's Wyoming Hunger Initiative, and Perez-Good Voice Elk said collaboration with the hunger initiative and Gordon has been big.
"It's really important to have people like that," she said. "Because there are a lot of outsiders who still think that we live in teepees, and we don't."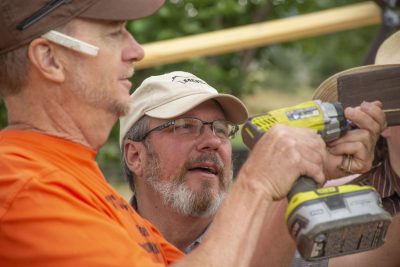 Edwards and Griffiths favor domes now instead of the high tunnels, which are usually made with PVC pipe. Domes have a timber frame structure and are stronger, and Griffith said a dome in Afton had 4 to 6 feet of snow on it and still stood. Edwards said domes have fewer wear points on the plastic. He estimates the sheathing should last up to 15 years.
The Sundance dome effort also complements a large greenhouse to be built at the school, said Brian Kennah, Sundance ag teacher and FFA adviser, who helped with the build. He hopes to grow four crops a year for sale. Proceeds will benefit the FFA program.
The Sundance FFA and Crook County 4-H programs are more effective because of working cooperatively, he said.
There is a synchronicity. Kennah was Fleenor's ag teacher in school, and now former 4-H'ers led by Fleenor are helping out in Crook County, such as volunteering as fair superintendents, with craft projects and 4-H Fridays. Kennah is also now teaching Fleenor's children.
Community support for agricultural education efforts in Sundance has always been strong, he said.
"It's been amazing," said Kennah.