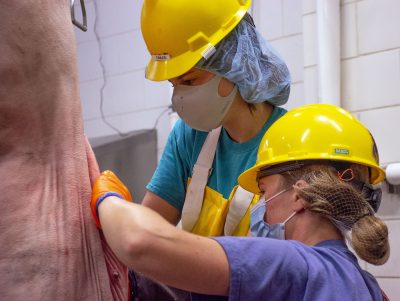 A video course showing the processing of beef, pork and lamb carcasses into different meat cuts – and the correct cooking methods – is available from the University of Wyoming Extension.
The free course, 4-H Meat Fabrication, was developed to help 4-H youths identify cuts of meat during their competitions, but the information is useful for anyone, said Johnathan Despain, state 4-H program coordinator. He said that includes wild game processing.
"If you want to know how and what different cuts of meat that you're buying from the grocery come from and from what parts of the animal, this is a great way to go see that process all the way through," he said.
The course contains voluntary quizzes to check knowledge and was developed to create more online resources to help 4-H'ers and FFA members increase their meat product fabrication and identification skills, particularly for the organizations' meat evaluation contests, he said.
Kelcey Christensen, former manager for the UW Meat Lab, processes meat from beef, pork and lamb carcasses and then into cuts such as steaks, porkchops and lambchops. He is now owner of the 307 Meat Company in Laramie.
Quizzes were developed for 4-H and collegiate audiences, "But the content is for anybody," said Despain.
McKensie Harris, lecturer in the Department of Animal Science in the College of Agriculture and Natural Resources, provided technical expertise, ensuring the content is correct.
She's used the course for her carcass fabrication class members.
"They are an excellent resource for students to review the skills they learn in the lab or review the cuts that come from each primal," she said.
The course is at http://bit.ly/4Hmeats as part of the UW Extension WyoLearn catalog.  Users will be directed to create a username and password.
The idea for the course did not originate for 4-H'ers, said Despain.
"It didn't have anything to do with what I was doing," he said. "It just connected."
His brother-in-law was trying to figure out how to make the different cuts while processing an elk.
"He said they went online and looked and looked and could not find anyone to teach how to process that. That stuck in my mind," said Despain.
He discovered the same thing while visiting with 4-H leaders teaching their members meat identification and processing.
"So, those two things kind of gelled for me that said how can we do something about this that not only helps our kids judging program, but also helps people like my brother-in-law or any enthusiast out there?" said Despain. "Now there's a place they can go and watch and repeat."
Course development also coincided with COVID-19 shuttering or slowing down processing plants. People wanted to process their own meat, and local meat processors were booked.
"When the pandemic hit, shipping stopped, restaurants were closed and also slowed down places to get animals processed," said Despain. "It brought everybody into thinking if I can't get access, what do I do? We in Wyoming are resilient people, and people started saying, 'Yeah, we could get our animals processed and we'd feed our neighbors in the community.'"
That raised the red flag that finding a place to process an animal is probably going to be an ongoing issue in the state, he said.
The effort also coincided with First Lady Jennie Gordon's hunger initiative and the 4-H program's first-time deer hunt.  4-H'ers took their game to be processed and donated to the initiative.
"We told the kids they should check these (videos) out, that they could process their animals at home and donate the meat to the First Lady's initiative," said Despain.
The course also has a cooking methods resource.
National 4-H and FFA contests require participants to apply the best cooking method for a particular piece of meat.
"It only made sense that we go the full score of it," said Despain. "If we're going to provide a digital learning platform for all those cuts, we want to serve multiple purposes. Ensuring the cooking methods was included was a need."