Romantic relationships are common sense, right?
Not exactly.
Just because romantic relationships seem to come naturally does not mean we are naturally good at them. Many young people lack good examples of healthy relationships in their families, peer groups, or in the media.
More than just puppy love, early dating experiences can have important long-term effects and set the stage for later committed relationships. Romantic relationships, and later marriages, form the foundation of families and can influence personal health, worker productivity, parenting, and child outcomes.
During the last two academic years, undergraduate social science students enrolled in a service-learning course called Relationship Education and Leadership in the Department of Family and Consumer Sciences. These students were trained as peer-educators to provide educational content about romantic relationships using an evidence-based curriculum.
Peer-educators teach workshops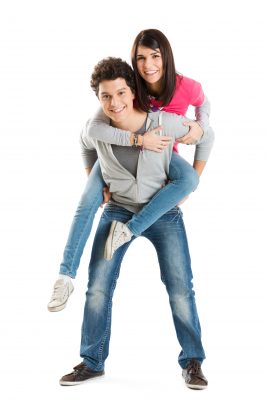 Peer-educators delivered a four-session workshop series called Relationship Smarts to other undergraduate students. Across three semesters, 12 undergraduate peer-educators taught the workshop series to 74 UW students. The UW Wellness Center assisted in promotion and registration of the Relationship Smarts program. Peer-educators also provided one-time educational events to student-athletes and members of fraternities and sororities on campus.
Peer-educators practiced key skills desired by employers in human services professions such as group facilitation, participant recruitment, marketing, development of program content, ethical practices, and program evaluation. They also gained exposure to the scholarship that informs the curriculum content.
The Relationship Smarts lessons have clear ties to research in human development and family sciences. For instance, inertia theory explains the risks associated with swift transitions to cohabitation or marriage without couples discussing their expectations. Sliding thoughtlessly into cohabitation is a risk factor for divorce. In one lesson, participants learn the phrase "decide, don't slide" to understand the benefits of taking slow, deliberate steps forward in a relationship after learning more about their partner.
Participants examine their expectations about intimacy, money, and future life choices like marriage and having children. This helps prepare them to communicate their expectations clearly and make thoughtful decisions as they establish long-term relationships.
Participants learn to identify unhealthy patterns
Have you ever said something during an argument you later regretted? In one lesson, we teach about how an "angry brain" is disempowered by stress hormones, reducing one's ability to think clearly and effectively resolve conflict. These hormones help explain why we may say hurtful words, behave poorly, and fail to see another person's perspective during an argument.
Skills are taught so participants can identify their symptoms of anger and consider ways to exit conversations when emotions consume their thoughts. They are provided tips for successfully resolving conflict when they are in a calmer state of mind.
Dating aggression is an essential topic in any relationship education program. The most common type of aggression in romantic relationships is psychological or emotional in nature. Name calling, manipulation, gaslighting (psychological manipulation to doubt your sanity), and isolation are all examples of how one person attempts to control their partner using psychologically abusive tactics.
This type of aggression may be linked to physical abuse, yet many of the early warning signs are often missed. We teach participants about the many forms of abuse and how to be on the look out for early warning signs. We play a game in which participants identify whether or not certain scenarios are warning signs. We emphasize that early signs of disrespect or control should be taken seriously and with prompt action. It is typically much easier to exit an abusive relationship early on than later when abuse has escalated.
Program outcomes
Pre- and post-program surveys collected data about the participants, and similar surveys were collected from a comparison group of non-participants. In total, 270 people completed these surveys. Several key variables were assessed. Evaluation of change within the participant group indicated participant knowledge of relationship topics improved from before to after the program. For instance, participants had improved knowledge of healthy communication, greater awareness of warning signs of abuse, and increased understanding of how family background can influence romantic relationships.
Narrow age gap facilitates learning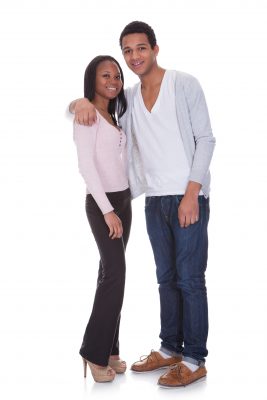 What did participants think about having peer-educators lead the sessions? Peer-educators were rated highly on their group facilitation skills such as their ability to facilitate discussions, show compassion to participants, and explain content clearly.
Participants also reported peer-educators were reliable sources of information who they were more likely to learn from because of their similar age. What were the overall impressions of the program? Participants reported high satisfaction with the program with 85 percent reporting high satisfaction, 82 percent stating they would recommend it to a friend, and 67 percent reported the program exceeded their expectations.
Impacts
This work brings multiple benefits to the state of Wyoming and aligns with the University of Wyoming's strategic plan because it inspires students and impacts communities. The service learning course increases student engagement and prepares future human service professionals to meet the complex, challenging needs of individuals and families.
Relationship Smarts participants are better equipped to have happier, healthier home lives. Families serve as the foundation for rural communities, and people who are in healthy, stable, happy families are better able to contribute as citizens.
This peer-education model offers a sustainable method to prevent relational problems and impact the future health of individuals and families in Wyoming.
Course provides high-impact, community-based learning

Most young people begin dating around age 16, and the average age of marriage is now close to 30 years. This means there is a lot of "runway" for people to explore and engage in different romantic connections.

Between ages 18-29, a stage of life called emerging adulthood, romantic relationships provide opportunities for identity formation, intimacy, and companionship; however, dysfunctional relationships can lead to intimate partner violence, mental and physical health problems, and higher engagement in sexual risk behaviors.

Formal relationship education programs, although relatively uncommon, promote development of healthy romantic relationships and aim to prevent negative outcomes. Emerging adults attending college are a key audience because romantic connections may either support or hinder academic achievement.

Another important need on college campuses is the opportunity for social science students to engage in experiential, high-impact, community-based learning. Many University of Wyoming students may return to rural Wyoming communities after graduation; it is key to prepare new professionals who will work in human services. Experiential learning opportunities are mutually beneficial because they meet a community need and promote important professional skills for students who will later enter human service careers.

Program participants

Workshop participants were, on average, 20 years old; the peer-educators were just slightly older, on average, 21 years old.

Other data: 40 percent male, 60 percent female; 86 percent heterosexual, 14 percent sexual minority; 78 percent Caucasian, 8 percent Hispanic, 3 percent African American, 4 percent Asian American, and 7 percent other ethnicity.
Authors: Alyssa McElwain, Assistant Professor, and Katie Kelley, Undergraduate Student, Department of Family and Consumer Sciences. McElwain can be reached at (307) 766-5111 or amcelwai@uwyo.edu.
Originally published in the 2020 issue of Reflections, Wyoming Agricultural Experiment Station's research magazine, http://www.uwyo.edu/uwexpstn/publications/reflections/index.html.