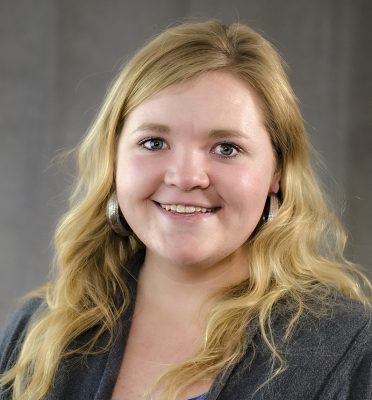 A Park County 4-H educator commended for juggling multiple projects, to-do lists and initiatives has received the University of Wyoming Extension's Newer Employee Award.
Tycee Brown joined UW Extension in 2017 and supports a membership of 389 4-H'ers in 15 clubs. The award recognizes those with six years or less of service with extension.
Brown has been actively involved in the State Leadership Team and creating new and updating previous marketing materials. She also serves as the treasurer for the Wyoming Association of 4-H Youth Development Professionals and created a new logo for the association.
Megan Brittingham, Goshen County 4-H educator, and Johnathan Despain, state 4-H program coordinator, commended Brown for her creativity.
"Tycee's creativity is undeniable, and her willingness to share her designs with her colleagues is a huge help to those of us who lack her intrinsic creativity," said Brittingham.
Brown has dedicated herself to helping her county be the best and truly wants her youth and volunteers to succeed, shares Despain.
"It's easy and usual for newer professionals to get overwhelmed with the job, but that is not the case for Tycee," said Brittingham. "She seems to effortlessly juggle the meetings, to-do lists, initiatives and various projects with ease and effectiveness.  She is so good I often forget she's only been here a short while."
Learn more about Brown and the award at https://youtu.be/e9wcdMmT2xE.