The fifth annual giant pumpkin contest hosted by the University of Wyoming Extension Goshen County Master Gardeners is Saturday, Oct. 3, starting at noon at the Frontier Shelter on the Goshen County Fairgrounds.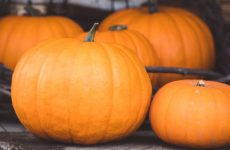 Contests at noon include "The Prettiest Pumpkin," which will be judged according to ideal shape and color, and "The Largest Squash" with all squash varieties welcome.
Pumpkin painting competition will also start at noon and will include children and adult divisions. The decorating supplies and pumpkins will be provided.
Check-in for giant pumpkins begins at 1:30 p.m., and weigh-in will follow.
"What a sight to see when the forklift unloads these amazing giants," said Linda Farrier, Goshen County Master Gardener.
The giant pumpkin contest is open to all ages with a $5 entry fee for contestants 12 years and older.
Baked goods, along with hot chocolate, apple cider and coffee will be available for purchase throughout the event. Proceeds will benefit Goshen County 4-H.
For additional questions, call the Goshen County extension office at 307-532-2436 or visit https://bit.ly/GCgiants.